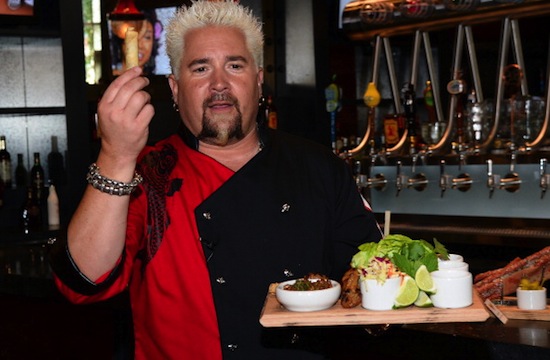 Who'd you think Guy Fieri was, fancy?
Interviews with Fieri are always entertaining, but also not because everyone always wants to know the exact same thing — is he really as Guy Fieri as we think he is? How does that hair stand up on his own? When will he sell out and make his own hair gel line anyways? Today, we find out that he's a wax guy versus gel, and that he's really going to change up that hair line anyways. Ha, JK! From the Washington City Paper:
[Interviewer] When I told people I'd be interviewing you, the No. 1 thing they wanted to know about was your hair. What is your hair styling routine like?

[Fieri] That's the No. 1 thing? It's not really that exciting. I tell ya, people want to think that I spend a bunch of time on it and there's a whole thing. Nope. I just kind of get up, sometimes it will be in a faux-hawk if I slept on both sides of my head… and sometimes it will be flat. There's no regimen. …

So people do ask you that question all the time?

Yeah. I'm going to change it up in the next few years. I'm going to do dreadlocks.

I don't know if I can believe you.

[Laughs] Yeah, we should have a poll: What will it be? But you know what? It's so funny, because that's what people think about and ask questions about…And then they get disappointed like 'Aw, I thought you were going to tell us you had to get a flat iron or something and you have to do all these things.' No! I don't have any time for that. I've got kids and restaurants and projects. I've got to get it going.
And no plans for a hair wax line anytime soon. Our Halloween costumes just got a tiny bit sadder.
RELATED: New Ranking Of Highest-Grossing Restaurants Makes Us Never Want To Be a Restauranteur
Melissa McCarthy Makes Guy Fieri References in All Her Movies
Have a tip we should know? tips@mediaite.com