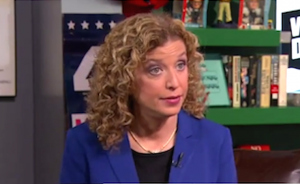 When mentioning the most polarizing figure in the Democratic party outside of the president himself, that one person who creates a visceral reaction every time he or she speaks, one of the following contestants is invariably in the running for top prize:
A) Eric Holder
B) Susan Rice
C) Charlie Rangel
D) Debbie Wasserman Schultz
But with Holder on the way out, Rice (thankfully) muted lately after a series of unintentionally comical Sunday talk show appearances, and Rangel stuck somewhere between stupid and 1866, first prize falls to the DNC Chairwoman — who may be forced to update her LinkedIn profile file sooner rather than later.
With every election comes consequences. And in the wake of Tuesday night — which was nothing short of devastating for the team in the blue uniforms — heads will roll, even under a president who takes issue with firing anyone who performs poorly. (Resignations are always gladly accepted, however.)
To that end, Wasserman Schultz should start typing that letter, because members of her own party wanted her gone well before Tuesday's results came in. According to a September column by the well-sourced Edward-Issac Dovere in Politico, Wasserman Schultz is no longer trusted to do an effective job, and even her priorities are being questioned:
"According to multiple people who have been in the room for DNC donor meetings, Wasserman Schultz regularly finishes a pitch to donors by asking them to give money to the DNC and her leadership PAC, or her congressional committee, or both. There's nothing illegal about this, but donors often grumble privately that this sends mixed messages about her priorities and why she's interested in meeting with them."
And it's not just money, but Wasserman Schultz's mouth as well. Two months ago she made even liberal commentators cringe by stating Wisconsin Governor Scott Walker had given the "the back of his hand" to women. "What Republican tea part extremists like Scott Walker are doing is they are grabbing us by the hair and pulling us back," she said. Not surprisingly, Walker's female opponent (Mary Burke) was even forced to distance herself from the remarks, but the damage was done: Wasserman-Schultz sounded like the extremist.
With the president now officially a lame duck, Democrats have already begun to divorce themselves from Obama and gone all-in on being the party of Clinton. That doesn't bode well for the head of the DNC, who isn't exactly chummy with Mrs. Clinton. If you recall, Wasserman Schultz once was the co-chairwoman of the disastrous 2008 Clinton campaign. And according to the same Politico piece:
"Wasserman Schultz secretly reached out to the Obama campaign to pledge her support once the primary was over, sources say. Meanwhile, the Obama team was so serious about replacing her after 2012 that they found a replacement candidate to back before deciding against it, according to people familiar with those discussions."
Ever hear the old saying about Irish amnesia? They forget everything but the grudge. Same goes for the Clintons: wrong them, fail to show any loyalty, and they never forget. So with that in mind, it appears the Clintons have no use for Wasserman Schultz, nor does President Obama or the party in the wake of a resounding rout — who apparently wanted her gone two years ago — leaving the 48-year-old with few options outside of simply being an outspoken congresswoman you'll still see all over cable news again.
With elections come consequences, consequences that usually come in pink slips. This time the first one will more likely than not be issued to one of the most polarizing political figures to America — even to those inside her own party.
[Image via screengrab]
— —
>>Follow Joe Concha on Twitter @JoeConchaTV
Have a tip we should know? tips@mediaite.com