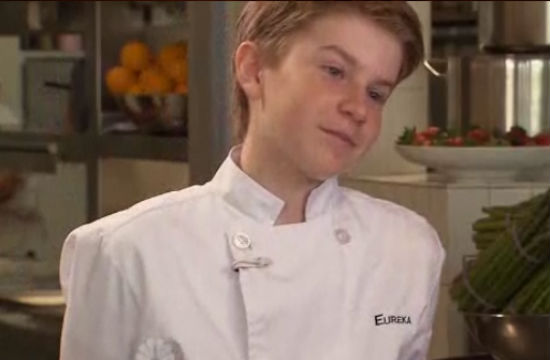 Remember when Gwyneth Paltrow jumped on the Thug Kitchen bandwagon and revealed her obsession with his vegan streetisms to an audience full of middle-aged white women on The Rachael Ray Show? Ever a lady with her finger on the pulse of the food sphere, Gwyneth just upped her hipness profiling baby chef Flynn McGarry on her lifestyle blog GOOP.
We've been dying to eat 15-year-old Flynn McGarry's food since we first caught wind of the dinners he was hosting in his mom's house up in The Valley. McGarry, who dropped out of school because he was being bullied (in part, for carrying around French Laundry), has been in the kitchen ever since, working at Eleven Madison Park and Alma along the way. While he's clearly picked up some tricks, this is no ordinary teen with a blow torch and a sous-vide. His food is hands-down sublime. He occasionally holds restaurant take-over events, and we lucked into a table earlier this week at L.A.'s Fifty Seven, where he turned out Beet Wellington with creamed kale and beet bordelaise, artichoke bloomed with herbs and cod, and tomato tartare, accented with pickles, pumpernickle, capers, and cured egg yolk. Quite simply, it was insane. (Plus: Check out that awesome head of hair!)
You know, we really have grown weary of those ordinary blow torch-and-sous vide teens. Her July newsletter cookbook club entry also features Ed Lee's Smoke & Pickles, so basically, GP is ready to come intern for us.
Have a tip we should know? tips@mediaite.com