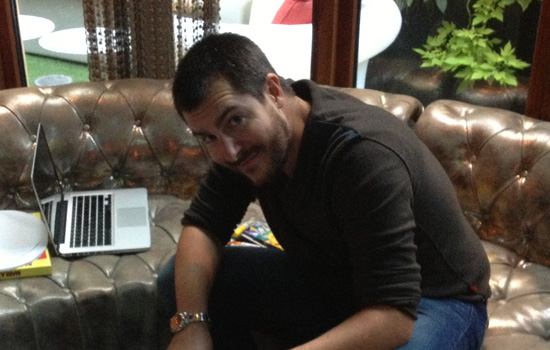 Harold Dieterle may not have a clue who the Top Chef also-ran who introduced themselves at a recent event is, but he still hugged it out with Dale Talde when the two overlapped in The Braiser Media Lounge today at the Food Network New York City Wine & Food Festival. We also got the scoop from one of Anthony Bourdain's favorite "celebrity" chefs on his new German-Italian restaurant, The Marrow, why writing a cookbook isn't his forte, and what it felt like to get "boned" at last year's Meatball Madness challenge.
Tell us about your weekend!
You know, this is always a challenging food festival because it's usually in the second or third week in October and that's typically right when it starts to get cold and the fall rush kicks in in restaurants in New York City. In the last two weeks, we've seen a significant uptick in business. I would say between where September is and where now is, probably 15 to 20 percent. September is fine, it's good. But from now until the end of the season, you feel it. Last year, I did three events at the festival and it's just too much. So this year I said I was just going to do one. So I'm doing Tacos & Tequila tonight. I agreed to do Tacos & Tequila and then they told me they were doing a spice event, that's about spicy food — and I really wanted to do it, obviously. But I just couldn't. And it's not just about myself, it's about doing that to my team and my kitchen and the staff at my restaurants. They get double slammed.
What's it like working with Bobby Flay?
I've always had an extremely great relationship with Bobby. I think he's a great guy, I think he's a great ambassador for a lot of chefs. I've been doing the Meatball Madness since it started at Perilla, and then [I was told], "Bobby wants you to do Tacos & Tequila!" And I said, "Of course. If Bobby wants me there, I'll do it." And honestly, I'm enjoying doing this more than the Meatball event. Because I got boned last year. I got boned last year at Meatball Madness. I was one of the only people who didn't do an Italian meatball and mine was totally the best.
That's what they all say!
Well, you've got Italian sponsors — they're going to give first place to an Italian ball.
They're biased!
They're totally biased.
Speaking of Italian — The Marrow. What's going on there?
Construction. It's a little challenging because it's more work than we've ever done before, so it's hard for me to gauge when we'll be open. I think we're going to be there in November, but I'm not really sure.
How are you walking the line between serving Italian and serving German?
Well, that's exactly what I'm doing. I'm walking the line. It's not — there's no fusion. There's going to be some German dishes and there's going to be some Italian dishes. I just have to count the number on one side and then count the number on the other side and then also make sure they match up.
I think the Italian will be easier for me to come up with. I've never been to Germany.
What! You need to go.
I should go. Of course I should go. I can't go right now, though. So I think that's going to be a little more challenging. There's less to relate to. There's not nearly as many [German restaurants in New York]. There's probably less than fifty German restaurants in New York. And there's almost 300 Italian restaurants in New York.
I'm really bad with numbers, but I would have probably said something like, "There's thousands!"
It feels like it, right? And they never close!
Last time we spoke, you said you had promoted your sous chef at Perilla and that was how you were managing to divide your time between two restaurants. How do you plan on handling a third?
Well, I just promoted my sous chef at Kin Shop. It was one of those things where we were talking about it and he's a fantastic kitchen manager… and he's really stepped his game up. I try to let all the managers run the restaurants in my place. And if they mess up a lot, I talk to them and we try and fix it.
When you're up and running, will you still try and split time?

No, no. I'm going to do the same thing I did when I opened Kin Shop and be there 24/7 for 36 months, just getting it all set up. And hopefully I find my guy that is going to be at The Marrow who will eventually step up and run the show. I do micromanage a little bit, but at the same time, everyone knows where they stand so there's no surprises.
Third time around, is anything getting easier?
No, no. I'm not a construction guy. I mean, I understand it and I understand the process, but I'm ready to start cooking. I enjoy building it but it's never happening fast enough. The stuff that I don't enjoy is dealing with the Building Department and dealing with the SLA [SOA?] and all you do is hear stories about how the city is trying their hardest to create jobs and I'm like, "Listen, guys, I'm about to create forty jobs but you're not doing me any favors getting this thing going." And that's really frustrating.
Have you found a home for any of your TV ideas?
I can't find the right partner. And on top of that, I get inspired by food and if there's something I want, I make it happen. I just haven't found something that I'm inspired by on television. I can't find anything I'm that interested in, and I'm just kinda like, "Eh." I'm just really not committed. That's what it all boils down to. I haven't been heart-broken.
Do you pay attention to food TV and all the new talent that's coming out of it?
No, no. Not really. It's funny because there's been some newer contestants from Top Chef and I've been at events where they come over and introduce themselves to me and I feel bad because I'm like, "I have no idea who you are."
What about the older crew? We've got Dale [Talde] coming through here shortly.
I like Dale a lot. I wish I was still living in Park Slope. I do need to make a trip and everyone I've talked to said [Talde] is really good.
You've been to a ton of food festivals now. Which one is the craziest? How does New York compare to Aspen?
Well, while I'm here, I still need to worry about what's going on in my restaurants. If there's a problem when I'm in Aspen, if there's a total disaster, it's like, "You give me a call and we'll try and figure it out."
I have much more outrageous memories of going out in Aspen. Here? You know, there are some late night parties, but it's never that crazy. You know, here, everyone's still doing some work. In Aspen, everyone is on vacation. They do a really nice job organizing things here; it's incredible. It's just where we are, and where my restaurant happens to be.
If you had to be teamed up with any other chef for a food competition show, who would you pick?
It would be one of two people: Joey Campanaro [The Little Owl] or John Frazier [of Dovetail]. Those are two of my best friends. John has some of the best technique of any chef I've ever seen, and he takes romantic ideas and turns them into beautiful food, and it never seems like he's trying too hard. And Joey cooks the most craveable food I've ever had. I crave-eat Joey's food.
How's the book going?
It's going great. I mean, I don't really know what to expect. This is all new to me and I really don't know what I'm doing. I'm really just doing what my writer [Andrew Friedman] tells me to do. We meet each week, we're going through recipe lists and making it interesting. He seems to think it's a very unique and big idea. I don't really know. I'm just writing a cookbook because I feel like I should do it. No, seriously! You know what, the last time we were talking I said something about Pathmark [Friedman and my agent] ripped me apart.
Uh oh! Sorry!
No, no. I said it.
I feel like it was really hard to come up with the idea and it's a lot of work. I didn't think it was going to be this much work and I didn't think it was going to be this hard. It's really hard. And I'm not a scholarly fellow. I'm a working man guy. I like working with my hands. Getting me to sit down with a pen and a piece of paper or even just, like, sit down and talk to Andrew is challenging for me. But I'm enjoying it. It's something new. If it was something I wasn't enjoying, I wouldn't be having conversations with him like, "So, what are we doing for our next book?"
Are you saying you're going to do a second cookbook?
I mean, we're joking around. But if I wasn't enjoying it, we wouldn't be having that conversation. But it's way out of my comfort zone.
This interview has been edited and condensed.
Have a tip we should know? tips@mediaite.com