Get a Taste of Stephanie Izard's Incredible Cheez-It Wedding Cake at Little Goat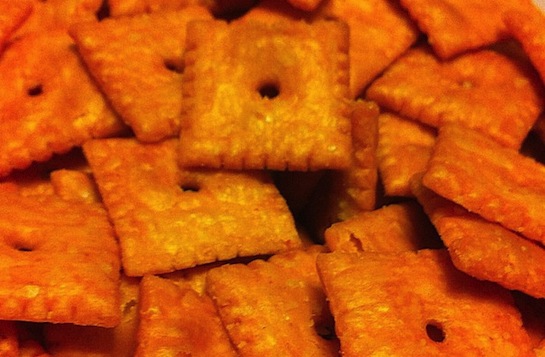 This may be the best wedding favor ever for all the people Stephanie Izard may have left off the guest list for her adorable foodie wedding. (We just think our invite got lost, right Steph?) Now you too can have a piece of her Nesquick and Cheez-It wedding cake delight!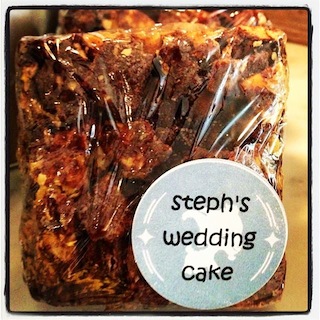 Tiny tastes of the same recipe used to make this junk food heaven of a cake are now on sale at Little Goat, for $3 for a small taste. The cake, made by Girl and the Goat's pastry chef Mathew Rice, sounds incredibly insane — and the best idea we never had. From Food & Wine:
The four-tiered cake featured alternating layers of Strawberry Nesquik-infused chocolate marble cake with bacon buttercream and a Cheez-It-flavored cake with a crunchy filling of chocolate ganache, peanut butter and chocolate-covered Cheez-Its… Rice first came up with the idea to pair Cheez-Its with chocolate while attempting to recreate a Butterfinger. In fact, he's put all the cake's flavors together before, in a sundae with Strawberry Nesquik gelato and chocolaty Cheez-It crumble at Izard's diner Little Goat.
Well, now thinking of a Butterfinger, chocolate + Cheez-Its makes total sense.
No word yet on whether Little Goat has sold out of such a tasty treat, but we assume it's going fast. We're pretty sure that no wedding cake will ever be able compete with the Izard-Valentine wedding cake — except maybe Valentine's craft beer-inspired groom's cake. (Please tell us it was made with real beer!)
[Chicagoist, The Huffington Post]
RELATED:
Stephanie Izard's Wedding, As Told By Twitter
Stephanie Izard Conquers A Pig's Head
Food Porn: Celebrate Stephanie Izard's Win With Her Beef Heart 'Gyro'
Have a tip we should know? tips@mediaite.com