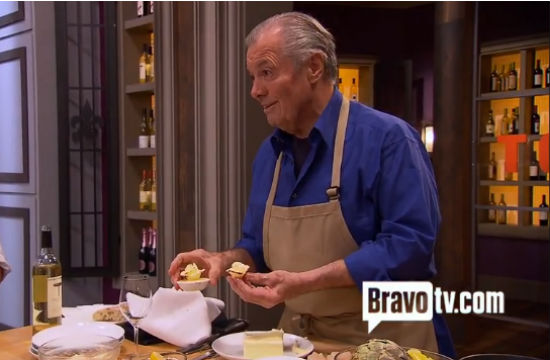 "If cameras went into Thomas Keller's Per Se in New York, Alice Waters' Chez Panisse in Berkeley, or Grant Achatz's Alinea in Chicago, they would see a kitchen that is well organized, with a contented, dedicated, hard-working staff," Jacqués Pépin said in an essay last week for The Daily Meal about the problems with cooking shows on TV. He continues, "The cruel rivalry and conflict depicted in Hell's Kitchen may be good for ratings, but it is unjust to dedicated cooks and unfair to the trade."
Though Pépin was one of the original celebrity chefs- he won an Emmy in the 1990s for Julia and Jacques Cooking at Home, his show with Julia Child– he's disappointed in what cooking television has become. He says that what is depicted as reality is not actually real at all.
He says:
"In the last few years, there have been a flurry of new TV cooking shows, so-called 'reality' shows, that portray the restaurant kitchen in a chaotic and negative light, and I believe it is a disservice to our trade and to young people who want to go into this business. The worst offenders insult and humiliate their crew, cursing and swearing, with every other word a bleeped expletive. The crew, often unkempt and untidy, look at the chef defiantly and seem to be terrorized and belligerent at the same time."
The poster boy for this kind of television is, of course, Ramsay, who has made a TV career out of yelling at and insulting contestants on his shows. He's the Simon Cowell of the cooking show world. His insults are creative and loud, and he's spewing them pretty much nonstop.
Aside from being damaging to people, it's also damaging to the way we see food, Pépin argues.
The process of cooking, the process of combining ingredients together to create a dish, is never seen on these shows. Nor is the process of tasting, adding an ingredient, then tasting again and commenting ever shown. Dishes appear from somewhere, and the tasting is only done by the dictator chef at the end of the show, and only in the context of disagreeing, conflicting, or contesting the taste, with the goal of mortifying his cooks, not helping them. This approach is certainly not conducive to creating good-tasting dishes.
"A good kitchen is quiet most of the time. It is disciplined, well structured, and clean. People who cook there are dedicated and work together. Teamwork is extremely important, as all parts of the kitchen have to work on many of the same dishes," he says. But of course, that doesn't make for interesting television. He may be right, but it's just so hard to look away. And, when Ramsay earned more money than Kim Kardashian last year, and as much as Beyoncé, how can we expect him to say no?
[via First We Feast, The Daily Meal]
–
Have a tip we should know? tips@mediaite.com