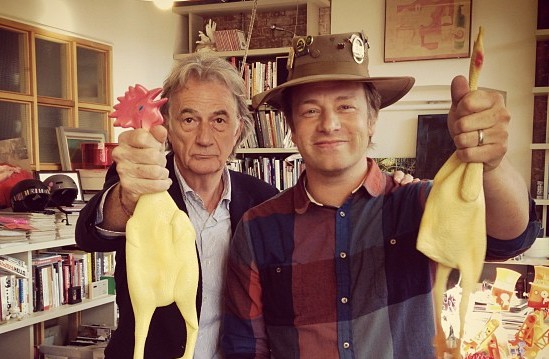 The schedule for the newest season of the Sundance Channel's Iconoclasts, the show that brings two creative visionaries together to talk shop about Being Successful, is out. Included in this season's lineup is none other than Jamie Oliver, who will have a long, long conversation with his mentor/rubber chicken hunting buddy, British fashion designer Paul Smith.
Normally, when something happens that mashes two different celebrities from two different industries together, we make 3.81 jokes about it. (See: "Todd English and Alicia Keys," "Jose Andres and Hannibal Lecter," and "Michael Mina and Alanis Morissette Vanessa Carlton Michelle Branch.") But in this case, it's completely on purpose, and engineered to see what sort of new ideas emerge from a meeting of two very successful, very unique Brits.
We have to say, we're actually kind of fascinated by what these two men would have in common with each other, besides their Britishness: Oliver, who's refocused his efforts towards public health initiatives, and Smith, whose career began in menswear and currently runs a fashion empire, are nothing alike on paper (or even in e-ink). Nevertheless, the longstanding relationship between the two men indicates that the series somehow manages to make it work, and we'll probably steal our neighbor's cable to watch this one.
(But while we're on the subject, did you really have to pair Judd Apatow and Lena Dunham? That's not as cool as Oliver + Smith!)
The Oliver + Smith episode airs on Tuesday, November 6th at 8:00 PM, if you don't want to have an aneurysm watching election poll returns.
Have a tip we should know? tips@mediaite.com