Josh Ozersky, Nick Kokonas, & An Embittered Editor On The Harsh Worlds Of Food And Web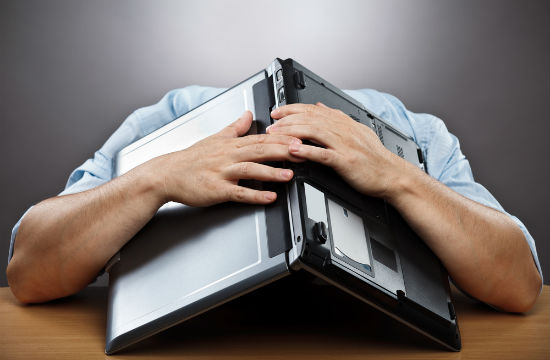 Allow us to set up a pissing contest for you: veteran and James Beard-award-winning food writer Josh Ozersky, veteran and James Beard-award-winning restaurateur Nick Kokonas, and the presumably recently sacked editor of the now-defunct Grub Street Chicago whipping 'em out and measuring whose life is harder.
Bloggers are over-worked and stressy!
Restaurants are under-staffed and stressy!
Josh Ozersky worked for Grub Street once and almost died!
Okay, we're being hyperbolic about that last one, but seriously, read this great paragraph about how terrible launching GS was for Josh from his recent New York Observer op-ed:
"I was the first editor of Grub Street, and those two years were, for all the excitement, a life radically wretched. I've been in a bad marriage, survived a doctoral program, suffered obsessive episodes requiring medication, lived with a girlfriend who worked as an escort, struggled to keep a business afloat, been in tax trouble and written nine books — and I have never felt the kind of pressure I did when I was helming Grub Street."
Oh but wait, Joshua, because tirelessly cranking out posts in the endless blogger grind doesn't even begin to compare to the pressure restaurants face in gathering buzz amongst those blogs:
"The pressure to be in certain blog roundups and listicles is intense," said Steven Hall, a veteran New York restaurant publicist. "But once a few months have passed, it becomes increasingly difficult to keep the hot factor, especially if the players are unknown."
Pish posh to that, according to Ozersky. Danny Bowien might be the bane of your inferior clientele's existence, Steven Hall, but he's not that great:
"Danny Bowien is talented, and it would be wrong, as some churls have, to dismiss his cooking as stoner food for smart people. But he's no Gray Kunz, either, and Mission Chinese will eventually cool, and the Blog Gaze will land elsewhere. That kind of coverage is, I think, justifiable when lavished on a figure as charismatic and influential as David Chang, or as wildly talented as the Voltaggio brothers or the Torrisi boys."
Uh, likelihood that somehow, somewhere, there is a Voltaggio brushing his shoulders off? High.
So, of course, this op-ed is ruffling feathers, but worry not, because caped crusader Nick Kokonas (hyperbole again, but seriously, how cool would it be if he started wearing capes?) jumps in with a long Facebook post in the comments section — admittedly, humbly unedited:
"The websites that Josh is talking about… Eater, Grubstreet, the Braiser, Star Chefs, etc etc…. are in my mind not 'blogs' at all. They follow a weblog format, but indeed they are the descendants of food magazines — which are, in the 21st century, simply too slow to exist. A three or four month lead time means nothing anymore. Recipes remain relevant, listicles of various types *might* be ok. And travel essays probably work. But reporting on restaurants? Old hat by the time that magazine article comes out. At Alinea a three month lead time means we are trying to find white asparagus in February for an article in XYZ national magazine in order to photograph a dish that might be on our spring menu. It just doesn't work anymore, though there are still one or two great ones.

Still — these are NOT blogs. Blogs in my mind are the work of an individual writing for pleasure about a subject they love. These are entertainment websites, no different than TMZ, that cover a HUGE form of entertainment — the restaurant industry.

What Josh misses, however, and what is becoming more and more obvious every day, is that restaurants do not need these websites if they get into users social streams. There are two reasons that Next does not have a traditional website, only a ticket portal. Those reasons are Twitter and Facebook. If we post content to Facebook and mirror it on Twitter it is common that we reach over 200,000 directly and indirectly. And it requires very little on the part of the customer to see that content… it washes over them passively — what every advertiser ultimately wants. They can opt in or out… but once in, they tend to stay in if we treat them well.

Don't get me wrong… the 'blogs' are still relevant. But they are not critical anymore just like eGullet is not critical. I appreciate it when they post articles about us… but I worry about social media far more."
TLDR; if you're not on Twitter, Nick Kokonas doesn't care about you.
Ozersky's not buying it. He rebuts:
"That's a great point about social streams, but I'm not sure it's true. It may be the case for Alinea, which is uniquely powerful, with a national, even global, reputation equaled only by The French Laundry. I'm not sure if other restaurants much farther down the food chain can really photosynthesize their coverage in that way."
…Which is a point we sort of agree with, because it's tricky to be a Twitter pimp out here. (See: these guys.) And believe us, agreeing with Josh Ozersky is giving us moral dilemmas in excess of those we faced when Paula Deen came up with a decent charity.
Wait, but who are we missing in this debate? Oh right, he's been declared so irrelevant by Food Media that we almost forgot about him: the modest ex-Grub Street Chicago editor. (You might remember that Grub Street recently announced they were shutting down all non-New York iterations of the site — Los Angeles, Chicago, San Francisco, Philadelphia, and Boston — in favor of running one, national news source.)
Comments ex-editor Michael Gebert:
"Oh, you New Yorker you, you write all this and you don't even mention the biggest Grub Street story of last week — that they shut down the non-NY blogs. (I was the editor in Chicago.) That was us, the tiny dots on the map of the US by Saul Steinberg over your desk.

I'm sure there are chefs and PR people out here who will read this and have reason to think that the only thing worse than being hyped by Grub Street is not having a Grub Street to hype you at all."
We thank you, Michael, for that palate cleanser of bitter, bitter herbs. (Slash we're starting to wonder if maybe it is really terrible to work at Grub Street… But then again, it's also terrible to work for The Village Voice, and Josh later confirmed "Grub Street was the best thing that ever happened to me, and the reason I have a career. Period." if that's any endorsement…)
Moral of the story, from all sides: The Internet makes life hard for everyone. It makes The Media sleepy all the time, because it birthed "the 24-hour news cycle," and it makes The Restaurant Industry sleepy all the time, because it doesn't give anyone a chance to fix anything before allowing vultures to pick at its already-rotting restaurant carcass. Everyone could use more naps. Hey, you know has nap pods in their offices? The Huffington Post! Maybe we should all go work for them! Or BuzzFeed, but like, eh, too many cat GIFs, not enough Chefs Behaving Badly with Cuban Prostitutes.
RELATED: Your Ultimate Guide To The Best And Worst Of Celebrity Chefs On Twitter
Paula Deen Starts 'Bag Lady Foundation' To Help Impoverished Women And Children
Critic Robert Sietsema 'Unceremoniously' Fired From The Village Voice
Which Chef Was Robbed By Two Prostitutes In Cuba?
Have a tip we should know? tips@mediaite.com