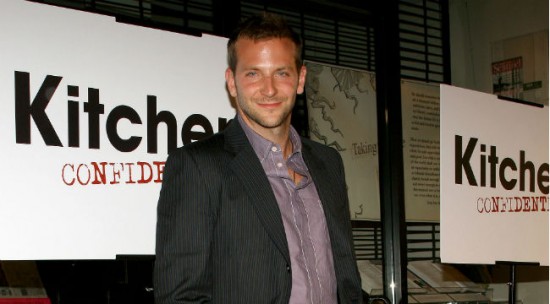 Bradley Cooper playing Anthony Bourdain on a TV series based on Kitchen Confidential, which also stars Buffy: The Vampire Slayer's Nicholas Brendon (wait…), Freaks and Geeks' John Francis Daley (what?!), and Harold and Kumar's John Cho (no way!). Those of you who know exactly what we're talking about, congrats. You're a cool kid. As for the rest of you, now that we've secured your attention, let's backtrack.
An integral part of being Bourdained into the loyal following of the master of irreverent snark is a foray into his New York Times bestselling memoir Kitchen Confidential: Adventures in the Culinary Underbelly. In it, Anthony Bourdain chronicles the sex, drugs, rock, and/or hand roll in which he partook while working in various restaurant kitchens. But, uh, does anyone remember that the book was whipped into a flopped Fox sitcom circa 2005? Probably not, because it was canned after four episodes, due to that malignant, TV series-spoiling tumor known as sports. Yes, three episodes into the fledgeling series, Kitchen Confidential was put on hiatus in favor of airing the Major League baseball playoffs. (Refrain from eye-rolling; this story has a happy-ish ending.)
Those first three eps garnered but a measly 4 million viewers each, so, post-playoffs, Fox announced it wouldn't return for sweeps. Bradley Cooper and Co. wouldn't get to have another boozy viewing party. BUT, through the magic of the interwebs, all 13 episodes of Season 1 that filmed are available for streaming on Hulu!
And, thus, we at The Braiser are here to share this hidden (in plain sight) gem with you. We know what you're thinking: how good could it possibly be if it was cancelled after four episodes? That's like, The Playboy Club-level bad. But hold on, judgeypants. Freaks and Geeks was cancelled after one season and it both won an Emmy and is widely regarded by cult TV nerds as a mothereffing genius show whose untimely demise was a shock and a travesty. (If you'd like to take a moment to drool over Google pictures of James Franco as his F&G alterego Daniel Desario, we'll wait.)
But, let's cut to the chase. A pre-The Hangover Bradley Cooper playing Anthony Bourdain on a TV series? Yes, it's just that perfect. Of course, the writers opted to redub the lead character "Jack Bourdain," we assume because, one, Jack is a way sexier name than Anthony, and two, because they wanted to better fictionalize the author's story. We totally dig the casting choice — both men tower at 6'4 and both men are undeniably, irrefutably, hot-molten-lava sexy, although, admittedly, in their own particular ways. Anthony's got more of a salt-and-pepper, one earring, grizzled former rock star vibe, while Bradley is more conventionally hunky, boasting the slickest of charms and those piercing blue eyes that effectively turn us into a quivering souffle. The pilot picks up with a newly-sober Jack landing a job as head chef of fictional restaurant Nolita, with permission from the restaurant's owner to staff his own kitchen as he sees fit. Cue the band of misfits:
If we may hearken back to Judd Apatow's failed freshman TV series, the actor who played Freaks and Geeks' adorable protagonist Sam Weir is a regular on Kitchen Confidential! John Francis Daley plays fresh-off-the-bus-from-Utah rookie chef Jim. He packs a painfully moral, virginal, Jesus-freak-fueled punch, which, of course, leads to endless, torturous hazing from his co-workers. Think the Kenneth Parcell of the kitchen.
Jacking up the series' cult status is Buffy's Nicholas Brendon, who plays the uptight and often misguided Xander Harris Seth Richman: pastry chef in la cuisine de Bourdain. Then, we've got John Cho as Teddy Wong, master of all things sushi and seafood-related; Frank Langella as The Godfather-esque restaurant owner Pino; and Bonnie Somerville (better known to Friends fans as Green the Younger) as his daughter-slash-head waitress, Mimi.
Rounding out the eye candy department is Jack's devilish and dishy British sous chef Steven Daedalus, played by Owain Yeoman, and ditzy-sexy-cool hostess Tanya, played by model Jaime King (although, we find the earthier, sultry Erinn Hayes a much more palatable sexpot as welcomed mid-series addition Becky Sharp, AKA the token ladychef with balls to rival any of the menfolk in the kitchen).
Other cast notables include Sam Pancake, who plays sassy gay waiter Cameron with such panache that he could have easily been plucked from The NoHo Star and dropped onto a TV set, and his spicy Latina partner-in-crime/frenemy Donna, played by Tessie Santiago.
A motley crew, yes? Now, knowing the sordid encounters recalled in Kitchen Confidential the book, one wishes, just a tiny bit, that the series was created for a premium cable outlet like HBO or Showtime in order to tease out its fully raunchy potential. …Okay, really, we just want to see some decent derriere shots of Bradley Cooper plowing some restaurant groupie, but whatever. It's still steamy, hilarious, and just plain wrong enough in all the right ways, even watered down for network primetime airing. So, we couldn't let this one slide.
In the most satisfying of Bourdainiac nostalgia benders, The Braiser will be taking a look back at Kitchen Confidential, the TV series, one episode at a time. Re-watch along with us on Hulu or get hooked anew as we cover the ill-fated-but-worthy first season with weekly episode recaps. We know you've been prowling for something else, now that you're finally caught up on Mad Men.
Have a tip we should know? tips@mediaite.com