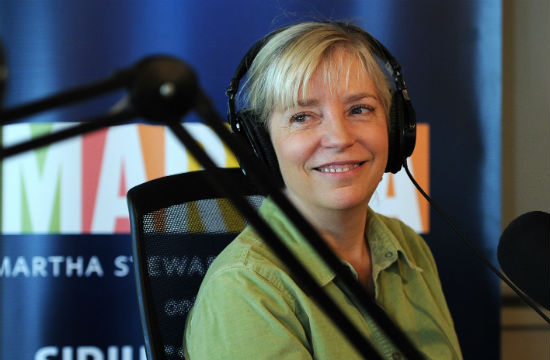 Welcome to Lady Chef Stampede, Amanda Cohen's series about the world's most influential Lady Chefs! Click here to read her Q & A with us about the column, or read on to learn more about this week's Lady Chef…
I'm having a Lady Chef Stampede, talking about all the women in food whose shoulders we're standing on today. I know it's one of those things old people say right before they yell at kids to get off their lawns, but things used to be different way back when. There was a time when Lady Chefs roamed the planet, free and proud. A long, long time ago, back in an era that people called "The '90s."
Sara Moulton sets the stage in her interview with Eater in which she talks about trying to find a job in New York City in the early '80s. According to her, the French-trained chefs at Lutèce, The Four Seasons, and several other big deal restaurants wouldn't hire her because she was a woman. Finally, she landed on the doorstep of La Tulipe in the West Village, the tiny restaurant with a big reputation, owned by Sally Darr and her husband. Opened in 1979, La Tulipe received three stars from Mimi Sheraton, then the reviewer for the New York Times and, despite having no fancy pedigree (Darr had no formal training, she was previously the food editor at Gourmet) it was a culinary hot spot, visited by numerous food world glitterati (including Julia Child, who loved it). It had a long run, although it was eventually demoted to two stars by the Times in 1988.
Chefs like Sally Darr, Edna Lewis, Anne Rosenzweig (see below), and Sylvia Woods offered opportunities to women like Sara Moulton who couldn't get their foot in the door at the bigger restaurants uptown. They were the outsiders in the food landscape, training a wave of female chefs who owned the late '80s and early '90s and who incubated the next generation of female chefs who are working today:
Anne Rosenzweig — starting out as an anthropologist, Rosenzweig began her restaurant career at Vanessa (down at 289 Bleecker Street) but was poached to be the chef at the River Hotel's La Grande Corniche. Then, in 1985 she opened Arcadia on the Upper East Side. In 1987 she was hired to rejuvenate the 21 Club, and in 1995 she opened The Lobster Club, also on the Upper East Side. Anne was huge in the '90s, and the food world was shocked when she was passed over to be the Clinton's new White House chef (read more about it in this 1994 review of Arcadia). Both of her restaurants had three-stars from the New York Times and although they're now closed, Anne is deeply involved in charitable causes today, and she started the Fresh Start program for prison inmates. Anita Lo, Missy Robbins, Charleen Badman, and Andrew Dornenburg of The Flavor Bible all got their starts working for her.
Diane Forley — at 16 she apprenticed with Michel Fitoussi, the chef at the Palace Restaurant in New York. After college she worked for several other New York chefs including David Burke, then she worked in Europe under Alain Passard. Finally, she returned to the city and in 1994 she opened Verbena. Esquire called it "one of the top new restaurants in the country" in 1995, it got two stars from the New York Times and Amanda Freitag was her sous chef. She closed it in 2003 (and I was working in that same space a few months later as the opening chef for Pure Food and Wine, which took over the address).
Katy Sparks — a graduate of Johnson & Wales, she got her start at New York's Quilted Giraffe, then became the sous chef at Bobby Flay's Mesa Grill. She opened her restaurant Qulity's in the West Village where it got two stars from the New York Times and she was named one of Food & Wine's "Best New Chefs" in 1998. It closed a few years later, and in 2005 she became Food Director for Balducci's, and later a food consultant.
Debra Ponzek — after graduating from the Culinary Institute of America, Debra worked at Tarragon Tree and Toto in New Jersey but came on board the troubled Montrachet in New York back in 1985. When David Bouley departed after a dispute with owner Drew Nieporent in 1986, she was part of the kitchen team that struggled to fill the gap he left behind. 10 months after the split, she became the executive chef and ran Montrachet for seven years. She was one of the few women in charge of a three-star restaurant in the '90s, and received a ton of awards from Food & Wine as well as the James Beard Foundation. She worked at several other restaurants in the city, was briefly married to Bobby Flay, and in 1994 she moved to Connecticut and opened Aux Delices, a retail gourmet food store with several outlets.
It wasn't all fun and games. Seen Lippert was imported from Chez Panisse to open Metrazur in Grand Central Terminal. After sitting on her hands for six months, she departed, replaced by Matthew Kenney and, eventually, Charlie Palmer.
But these women owned the '80s and '90s in a way that a lot of people have forgotten. There were so many of them, and their names were so well-known, that after several of them left their professional kitchens Marian Burros penned a 1999 piece for the New York Times that was titled, "Missing: Great Women Chefs in New York" that talked about the gap they left behind. In a way, Burros's piece became a self-fulfilling prophecy, because while the chefs who trained in these kitchens like Missy Robbins, Anita Lo, Anita Freitag, and Charleen Badman went on to open restaurants later something in the air had changed and they didn't receive the same kind of press coverage that their mentors had.
PREVIOUSLY: Li Li, Sylvia Woods, Rosita Guerrero, Josefina Velazquez, Mary Vereen Huguenin, Female Sushi Chefs, Dione Lucas, Elena Arzak
Have a tip we should know? tips@mediaite.com