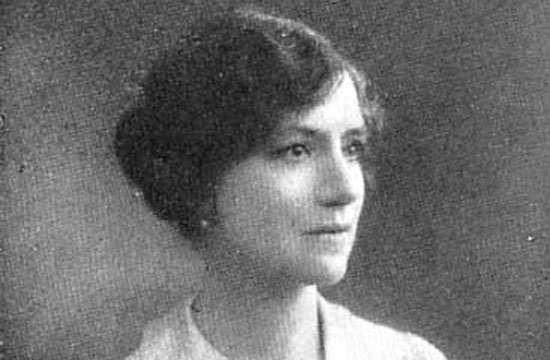 Welcome to Lady Chef Stampede, Amanda Cohen's series about the world's most influential Lady Chefs! Click here to read her Q & A with us about the column, or read on to learn more about this week's Lady Chef…
It's hard to believe that a lady chef as colorful, as wild, and as influential as Rosa Lewis has been forgotten, but I have to admit that until I recently stumbled across her name I'd never heard of her. So today, in honor of the unbelievably colorful life she led, this isn't the Lady Chef Stampede, it's the Rosa Lewis Rodeo.
Born in 1867 in Essex, Rosa Lewis (then Ovenden) was one of nine children of an undertaker and his wife. Crushingly poor, she became a domestic servant in an upper-class household at 12 years old. Showing some talent in the kitchen, she became a cook and at 16 her employers gave her a letter of recommendation that caught the attention of Prince Philippe, the Comte de Paris, a claimant to the French throne living in exile at Sheen House in Surrey. There she became the scullery maid, which was a pretty lousy job by all accounts. Fortunately for Rosa, she was taken under the wing of the Comte's cook who was a student of the great chef, Escoffier. The gourmand's lighter style of cooking was taking off as British chefs rejected the heavy, dreary Victorian food of Isabella Beeton, and the Comte's cook had trained not only with Escoffier himself but cooked at the fashionable Ritz, the glitzy Savoy, and the tres chic Le Petit Moulin Rouge in Paris.
Rosa became Head Kitchen Maid at Sheen House and in 1887 she was poached by the Duc d'Orleans, who was such an awesome boss that he allowed Rosa to cater dinners at other grand homes, where she established a reputation for being one of the best cooks in London. Inevitably, she left the employ of the Duc d'Orleans and became the cook at White's, a gentleman's club in the middle of London, but left after turning down the advances of a colleague, calling him "an amorous woodcock in tights." He wasn't too happy about this and had her fired.
Already known for her larger-than-life personality and sharp tongue, her big break came when Lady Churchill (mother of Winston, whom Rosa once referred to as a "copper knob") hired her to cater a dinner attended by Queen Victoria's son, the Prince of Wales (and future King of England) Edward VII. After the meal, the Prince invited her into the dining room, complimented her on the food, and gave her a penny. Not such a big tip, but when she left the room, Rosa fainted. She knew what this meant. Suddenly, everyone who wanted to have the Prince attend their dinner party was lining up to hire her, knowing that the way to his heart was through his stomach. She became the most in-demand chef in London, and was also hired on many occasions by the Foreign Office to cater State dinners.
Edward VII and Rosa Lewis were close, and rumors swirled that she was King Edward's secret mistress. Over the course of her life, Lewis has said she had three men in her life, but would never name them. After Lady Churchill's party, she began to receive expensive gifts from a secret admirer whose name she never disclosed, and the Prince and future King was said to enjoy talking with her at dinner parties, although she never visited the palace. When asked what he liked about her he once said, "She takes more pains with a cabbage, than with a chicken." But he expanded slightly when asked to explain why he loved her food so much, "She gives me nothing sloppy, nothing coloured up to dribble on my shirt front." Ah, it must be love.
To quell the rumors that she was King Edward's mistress, Rosa's parents insisted she marry a butler named Excelsior Lewis in 1893, but it didn't last. "Me family said that if I didn't marry Mr. Lewis they'd shoot me," she said in a later interview. "I told the parson to be quick and get it over and done with. We were married, I threw the ring at him outside the church door and left him flat." It was at some point during this period that Rosa began to be referred to as "The Queen of Cooks," although she claims that Escoffier himself gave her the nickname. Since she was known to never let the truth get in the way of a good story, that seems unlikely.
Perhaps out of gratitude for entering a loveless marriage to save his reputation, or maybe just because he loved her food, King Edward helped her purchase the Cavendish Hotel in 1902. She also bought the properties on either side of it and turned it into a massive, gleaming, gorgeous destination for the fashionable set, complete with a private entrance so that King Edward and his friends could come and go without being seen. The best families kept rooms at the Cavendish, Kaiser Wilhelm II loved it (although when WW I broke out she hung the portrait of himself he'd presented her with in the men's lavatory), and she loved letting fashionable American millionaires stay in her suites for weeks. Rosa Lewis was the most famous chef in England at this time, and was known across the Atlantic as well. It wasn't going to last.
In 1910, King Edward died, and she fell into a depression. The Cavendish, up until then the center of London's fashionable set, became a bit dowdy, bills went unpaid, and no one was in a partying mood what with WW I going on and everyone dying. The hotel's rooms became cluttered with bric-a-brac and more than a little musty. When the war ended, Lewis allowed veterans to stay there free of charge, stuffing them with champagne and caviar, which she paid for by jacking up the prices on her rich clientele like some kind of hotel-owning Robin Hood. It was during this time that she was granted her second nickname, "The Duchess of Jermyn Street."
In 1927 she was revitalized by a tour of the United States (which she loved, unlike a lot of British at the time) and cooked in some of the most fashionable restaurants in New York, teaching her skills to eager young students and giving dozens of interviews in which she held nothing back, scandalizing a gossip-hungry readership with all the insider dirt she had at her disposal. The only person she didn't dish on was her King Edward VII. Feeling rejuvenated, she returned to the Cavendish to discover that while the hoi polloi had moved out, the Bright Young Things had moved in. The hotel had become a scene of slightly disreputable society now, but the party was always in full swing. Even after a bomb sheered off the front of the hotel during WWII, she was reported to have crawled out of the rubble, shaken the glass from her hair, and run to check on her wine cellar, concerned that she had lost some of her collection of vintage champagnes. Evelyn Waugh would go on to immortalize her as Lottie Crump in his book, Vile Bodies.
When she had a stroke, she was rushed to the hospital but upon recovering she was appalled at the prices and reportedly walked out. Richard Hillary wrote of her in his book The Last Enemy:
"When we arrived, there she was, seventy-six years old, shrieking with laughter and waving a glass of champagne, apparently none the worse. She grabbed me by the arm and peered into my face. 'God, aren't you dead yet either, young Hillary? Come here and I'll tell you something. Don't you ever die. In the last two weeks I've been right up to the gates of 'eaven and 'ell and they're both bloody'."
Rosa Lewis lived until 1952, when she died in her bed, having completed that classic journey from scullery maid to the owner of a hotel and being named the "Queen of Cooks" in London. King Edward VII loved her food (and maybe her), Winston Churchill grew up on her food, and Evelyn Waugh included her in a novel. You don't get much more British than that. Her longtime friend and business partner, Edith Jeffrey, continued to run the hotel for 10 more years after her death. In 1978, Masterpiece Theater aired a miniseries based on her life called The Duchess of Duke Street. It ranked with I, Claudius and Upstairs, Downstairs as one of the most highly-rated and most popular series they had ever aired. Not bad for a scullery maid.
PREVIOUSLY: Madeleine Kamman, Leslie Resvin,  Chefs of the 1990s, Li Li, Sylvia Woods, Rosita Guerrero, Josefina Velazquez, Mary Vereen Huguenin, Female Sushi Chefs, Dione Lucas, Elena Arzak
Have a tip we should know? tips@mediaite.com