Last Call: Emeril Lagasse To Receive James Beard Award For 2013 Humanitarian Of The Year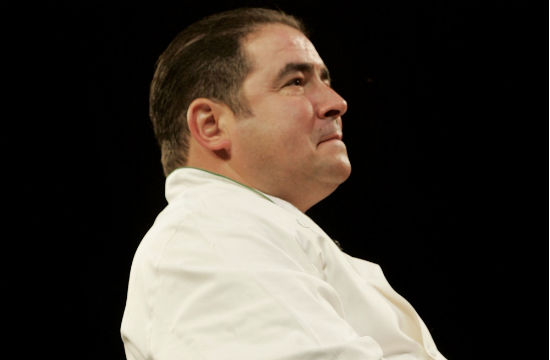 James Beard Foundation: The James Beard Foundation announced that Emeril Lagasse would be this year's recipient of the Humanitarian of the Year Award at the James Beard Awards Ceremony this spring. Yo, Emeril, I'mma let you finish, but Jodie Foster had the one of the best Lifetime Achievement Award Speeches of all time. Just sayin'.
Huffington Post: The Chicago Dental Society declared Stephanie Izard to be Chicago's celebrity chef with the best smile, ranking her over Grant Achatz, Rick Bayless, and Art Smith. In other news: WTF is going on at the Chicago Dental Society that this is a survey a bunch of dentists were forced to participate in?
Serious Eats: Jonathan Benno reveals that diners who come to his Lincoln Ristorante and peer into the open kitchen still freak out about the fact that the chefs are tasting their food back there. Well, yeah.
New York Times: Wylie Dufresne teased some of the dishes on the menu at his upcoming East Village pub Alder, and two things made us totally ecstatic — first, no dish will cost more than $25, and second, the oyster crackers in his clam chowder are made of real oysters, and said to taste "like oyster-flavored Pirate's Booty."
Economist: The Economist loves Noma, as evidenced by this lengthy article about how much cooler everything in Scandinavia is than the rest of the world. We know.
Eater: Curtis Stone is finally opening a restaurant in Los Angeles, two years after teaming up with Chef Steven Fretz in the hopes of collaborating on a concept. No nitty gritty details are out just yet, but he's moving into the former Pici Enoteca space in Beverly Hills.
Have a tip we should know? tips@mediaite.com