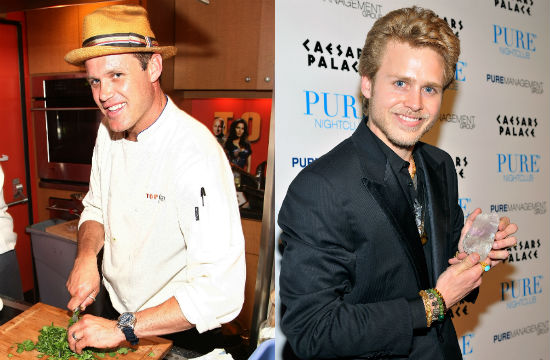 Access Hollywood: Ludo Lefebvre did a predictably seductive and heavily-accented cooking segment on Access Hollywood in honor of next week's Season Finale of The Taste, the best part of which is far and away Billy Bush making the most accurate observation of all time — re: Malarkey, "Who's that Spencer Pratt-looking guy?"
Men's Journal: In other seductive, heavily-accented videos, Gordon Ramsay taped a bit to accompany this Men's Journal piece, in which he semi-erotically recalls his bachelor fridge must-haves. Although, we respect that he copped to keeping pink champagne around 24/7.
Washington Post: Tom Sietsema delivered a glowing review of Bryan "The Quiet One" Voltaggio's immense new DC-area restaurant Range. Best part? The breadbasket was described as "a fashion show of carbs." Meet you there at nine.
GQ UK: In spite of his three-Michelin-starred British eatery, Heston Blumenthal is a huge fan of London's gastro-casual scene. Check out his best recommendations at GQ UK.
Serious Eats: Later this month, Las Vegas will host the World Pizza Expo, which essentially functions as a combination of Comic Con and The Olympics for Pizza Nerds. There's an acrobatic dough tossing competition…?
Press of Atlantic City: Jay-Z's 40/40 Club in Atlantic City officially closed — but really, the club says it technically closed in October, due both to the club's lease ending AND Hurricane Sandy destroying the venue at the same time. On the other hand, this was around the same time that he opened the Barclays Center. So it was "Hello, Brooklyn" followed by "D.O.A. (Death Of Atlantic City)"? Something like that.
Have a tip we should know? tips@mediaite.com