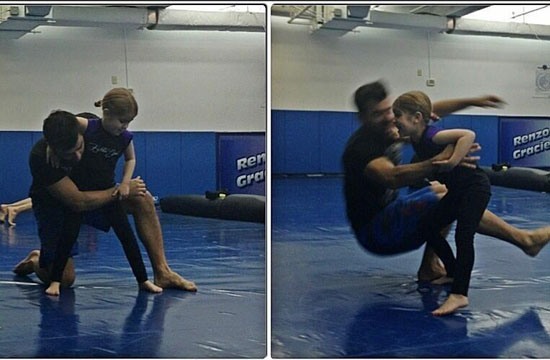 Twitter: This is a photo of Anthony Bourdain's very small daughter beating up a grown man. On a related note, we once saw her at a Bourdain book party wearing a very adorable pinafore meant for prairie children. Stop smashing our preconceived notions of gender, small Bourdain. Stop smashing them with your tiny fists.
The Daily Mail: Somehow, prunes in the UK are super popular, and this article ties the popularity of the shriveled old plums to celebrity chefs, like a certain Fat Duck proprietor whom we'll now call "Heston Prunenthal."
Eater: Professional Jeopardy! winner Ken Jennings tweeted the only useful reason to subscribe to Groupon: "It's good to know which nearby restaurants have mediocre food & will probably be out of business soon." Bahaha, Groupon sucks so much that it's a joke unto itself. (Mocking ill-conceived Web 2.0 companies is so much fun.)
Bon Appetit: A well-balanced Padma Lakshmi breakfast includes lots of eggs, but also "disco naps" for her three-year old, who gets to sleep in until 11:00 AM. Does this mean that baby Krishna Lakshmi is…a disco dancer? (We can't help it! We love Bollywood!)
Grub Street: Chris Cosentino loves offal so much, he's going to marry write a book about it. (The Book Of Love!)
Tasted: There's something missing from Richard Blais'latest Burger Lab in which he makes an Italianish burger that was inspired by Italy and not by the torrid bromance between him and Fabio Viviani. The secret ingredient? Tears from a scorned lover (Fabio Viviani).
Have a tip we should know? tips@mediaite.com