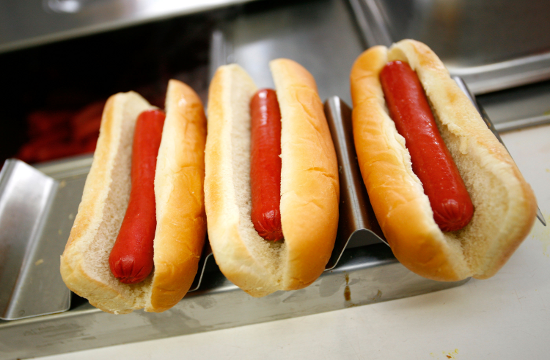 New York Post: A Long Island woman known as the "Hot Dog Hooker" was sentenced yesterday — and then immediately released on time served. Despite being charged with prostitution for offering sexual favors along with her hot dogs, she's currently looking for a new location to continue to "wiggle those wieners". There's really nothing we could add to make that funnier than it already is. Some days, the jokes just write themselves.
Huffington Post: In other hot dog news, Hebrew National's kosher hot dogs may not actually be kosher. Their parent company, ConAgra Foods is being sued by eleven different people for labeling these questionably kosher dogs as the real deal. And yet, that's still not the sketchiest hot dog experience one could have.
Eater: Mission Chinese Food was the set of a weird, violent short film, also titled Mission Chinese, about a chef that gets revenge on a group of rude customers. The lesson to take away from this is always be polite to the chef. He might just turn out to be a vigilante with magic tattoos.
Bon Appetit: Finally, there's a kitchen knife that's sharp enough to slice and dice but also safe enough to allow a small child to use. Becuase what little kid doesn't want a knife for his or her birthday?
The Daily Meal: Veteran food critic Gael Greene was fired from Crain's New York Business., She announced the news on her blog, writing, "What a shock! I've been fired again." This is the second major publication in four years from which Greene has been let go, and she's not happy about it. Although, considering the whole "misunderstanding" with Brett Anderson, maybe this won't be as permanent as she thinks. The countdown to backtracking begins…now.
Have a tip we should know? tips@mediaite.com