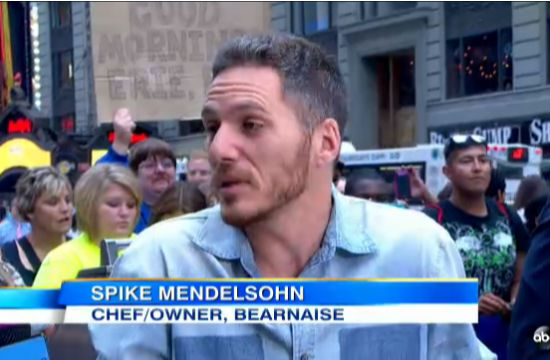 ABC News: Spike Mendelsohn stopped by GMA this morning to demo a "backyard bistro" version of the fare he's serving up at Bearnaise, but he was showing off a new look, too. Check his new salt-and-pepper (heavy on the salt) George Clooney look! So distinguished! We're digging it.
Grub Street: Rick Moonen is finally reopening the erstwhile rm Upstairs in Las Vegas as a new steampunk-themed supper club called Rx Boiler Room. We don't know how to feel about steampunk supper clubs, but the name change is definitely an upgrade.
Food.com: A sassy, fed-up mom known only as "ChrissyG" contributed a recipe to home-cooks focused site Food.com for ice. Yeah, just like, regular ice. Prep time: 2 mins. Cook time: 2 hrs. Ingredients: water. She writes, "I'm publishing this recipe because I'm sure that there are other families who have members, who don't know how or have forgotten how to make ice when the ice tray is empty." That lazy family is so busted.
Huffington Post: Taylor Swift visited an Italian restaurant in Philly while on tour, and, as it turns out the chef's 11-year-old autistic son was a huge fan of hers. (Yeah, prepare your hearts for this one.) Upon hearing what big fans the chef's family members were, she gifted him two tickets to her concert for the next night AND left a $500 tip. Good work, Tay-Tay. You now have one of the best tipping stories of all time.
Mediaite: You didn't expect no one to cash in on Anthony Weiner's latest sexting scandal with hot dog promotions, did you? Silly you. Of course Spirit Airlines ran a "weiner sale" with airfares that were "too HARD to resist" and — inexplicably for an airline — photos of hot dogs everywhere? We get it, but…do we get it?
Reddit: Matt Jones, perhaps better known to Breaking Bad fans as Badger, tweeted this photo from the Breaking Bad premiere party of the celebratory cake. Yes, yes, that is Vince Gilligan's head on a turtle a la Tortuga. Serious upgrade from last season's Breaking Bad finale cupcakes? We think so.
Have a tip we should know? tips@mediaite.com