Last Call: The Final Season Of Anthony Bourdain's The Layover Gets A Premiere Date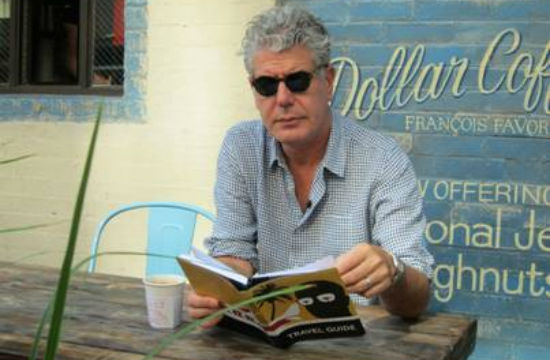 Travel Channel: The second and final season of Anthony Bourdain's sophomore Travel Channel series The Layover will premiere November 19th. That night, he takes on Chicago, "the only other true American Metropolis." Holla, Chicagoans! A revamped version of The Layover app will also drop in conjunction with the premiere. From then on, it's suits and ties at CNN, kids.
New York Times: David Bouley's Brushstroke has a secret sushi restaurant inside it called Ichimura. It got three stars from the New York Times. Boom. Secret blown.
Think Food Group: Jose Andres' Washington DC restaurant Minibar is dangerously close to re-opening, but the best part of this story is reading the description of the grueling work environment you're required to endure in order to secure a job in its Stagier Program. Chefs is cray.
Eater: Alcohol enemas are apparently the new vodka tampons, but you can bet your ass "alcohol enemas" aren't what the frat boys are calling them. Pun intended, because the only jokes we feel comfortable making about this are puns.
Obama Foodorama: Do you avoid sports at all cost? THAT'S A DISEASE YOU'RE PASSING DOWN TO YOUR CHILDREN LIKE A DISEASE. Or, at least, that's what White House Executive Chef Sam Kass found in his new report on the world's "Physical Inactivity Epidemic." On the bright side, kids who reject sports are probably sitting inside reading a book. Is that overly hopeful of us? Fine, they're sitting inside watching Here Comes Honey Boo Boo, and you need to get them off the couch and into some karate, stat.
Have a tip we should know? tips@mediaite.com