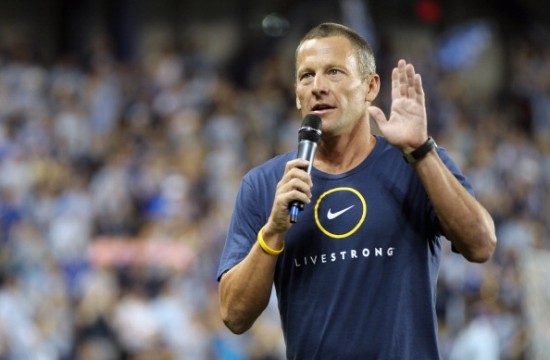 Grub Street: How awkward it must be right now for Daniel Boulud, having the famed yellow jersey of the most reviled man in the sports world hung on the wall of Cafe Boulud. But while Boulud currently has no plans to remove Lance Armstrong's jersey now that his credibility and reputation are forever tarnished by reports of steroid abuse, his rep assures Grub Street that it's only because Boulud's been, like, busy, with the travel, and stuff.
Roads & Kingdoms: Holy crap, Rene Redzepi and Noma single-handedly increased tourism in Copenhagen by 11%. And that's not even considering how the restaurant single-handedly created a legitimate food industry in Denmark. This will become a political talking point for either the Romney or Obama campaigns in about ten seconds.
Andrew Zimmern: Somehow, at the New York City Wine And Food Festival, someone caught the Zimm on camera, rocking out to white person band Train and doing white man dance moves. Which we cannot condemn, because you're a cool white man.
Huffington Post UK: Apparently the very sight of Heston Blumenthal's nerdy Anglo-Saxon mug is so repulsive to some Brits that it turns them off to the idea of cooking, according to a poll conducted by a cooking website. They also hate Jamie Oliver, Nigella Lawson, Gordon Ramsay, and the Spirit of Christmas.
Eater: Oh my goodness, there is an app called Babycakes that is full of your favorite pastry people and they show you how to do pastry and OMG ARE YOU SERIOUS I CAN HAZ CHRISTINA TOSI IN MY POCKET? We hope that she can make nice with Mark Bittman.
Alinea At Home: It's been a full year, but Carol Blymire finally returned to food blog space. Welcome back to cooking your way through the Alinea cookbook, and let's hope that you don't have any more debt ceiling crises between you and the liquid nitrogen. (And yes, we know the post went up on September 30th, but come on! We didn't think she'd ever come back!)
Have a tip we should know? tips@mediaite.com