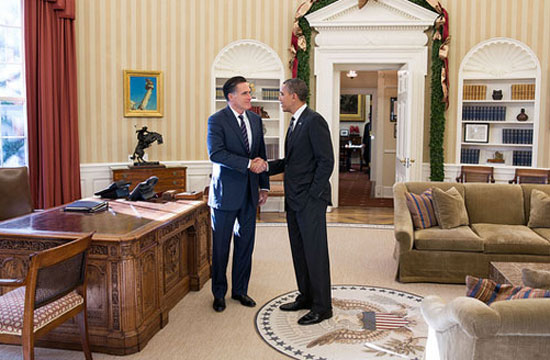 POLITICO: If we take Jose Andres at his word that the US government sends "hidden messages through food," we have to wonder what kind of message Barack Obama sent to Mitt Romney today at their closed-press luncheon at the White House today. On the menu: "white turkey chili."  (On a side note, we miss election jokes.)
Forbes: What do the top chefs expect you to wear to their restaurants? The answers run the gamut from "Wear fancy stuff out of respect" to "Chill out and enjoy the food," but it's interesting to note that Eric Ripert doesn't mind if you go tieless. Also, funny story — the kids dress up far more than the adults do. (Mostly, we're trying to pretend to be adults.)
Eater: While we're stalking chefs, here's an upcoming guidebook detailing all of the restaurants where top chefs like to eat in the world's major cities. Legal disclaimer: do not use this book to stalk your favorite chefs.
Grub Street: This is an unprecedented sequence of events: noted East Village drag restaurant Lucky Cheng's exists in all of its sparkly, drag-y glory. Drag restaurant closes down. Drag restaurant's former space will now house Myron Mixon's "honky tonk" Pride & Joy BBQ. Inevitably, there will be a pitmaster/drag queen turf war. Imagine that. Smile a bit. Yep.
HuffPost: Much like Plato and his Allegory of the Cave, we lived in darkness and ignorance about fruit before we saw this man tell us what an apple is, and whether it is or is not a fruit. New knowledge is dangerous and blinding. Tread carefully.
Have a tip we should know? tips@mediaite.com