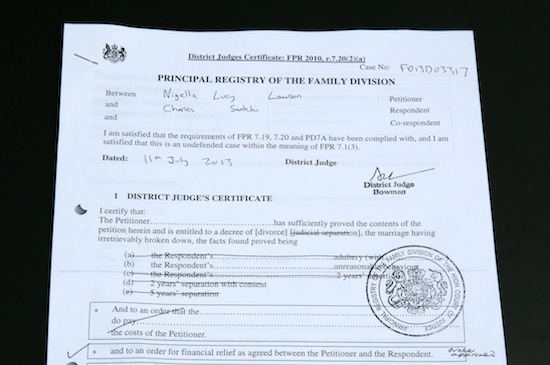 Ex-husband of Nigella Lawson, Charles Saatchi, has finally said (to friends, not directly) that he won't sue the celebrity chef over their messy divorce, saying that it's time to move on. Frankly, we couldn't agree more — this saga was way too drawn out for our liking.
The Telegraph reports that Saatchi has dropped all legal action against Lawson, who he says refused to defend her then-husband against allegations of violence and abuse. But those friends, speaking on behalf of Saatchi, still want you to know that there's a truth bomb waiting to happen:
Earlier this week, sources close to Mr. Saatchi told the Telegraph the "truth" about their argument was yet to emerge, claiming it would show the incident in an "entirely different light".
One said: "Charles has been portrayed as the villain in all of this but there is far more to it than meets the eye."
And Radar may have had an idea of what that story could be — after originally reporting on Saatchi's "plot to bring her down," the story then reads that Radar decided not to publish the contents of court documents. Oh, and the San Francisco Examiner wisely figured out that the original URL for the Radar story read: "nigella-lawson-ex-husband-friend-threaten-affidavits-exposing-alleged-drug-use//." Of course, that URL has been changed now — but seriously, can we close the door on this awful, awful story? Moving on, people — it's a good thing.
RELATED:
Why We're Drawn To Celebrity Chef Scandals
Nigella Lawson Emerges in Los Angeles after Divorce
Nigella Lawson, Charles Saatchi And The 60-Second Divorce Hearing
Have a tip we should know? tips@mediaite.com