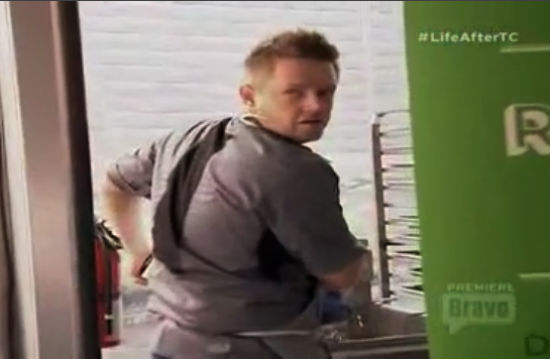 After pushing out a fame baby on their respective seasons of Top Chef, Jennifer Carroll, Richard Blais, Fabio Viviani and Spike Mendelsohn consented to allow the Magical Elves to document their burgeoning celebdom in its first, wobbly steps. But it was probably Fabio Viviani who best summed up the themes we'll be exploring in this inaugural season of Life After Top Chef — also known as Bravo's answer to the Teen Mom spin-off of 16 and Pregnant.
Offered Fabio, "This is a very interesting assorted group. Richard: family oriented, freaks out all the time. Spike is like a fourteen years old with a credit card. Jen: super chef, very very intense."
Translation of Jennifer's current position: she's trying to piece her life back together after shaming her mentor Eric Ripert with her Top Chef: All-Stars exit (which we actually appreciated because she finally showed some emotion and passion), and then parting ways with him to open up her own restaurant — for which she ignored his advice on partnership and wound up losing her investors. If you need a pick me up of bourbon and schadenfreude: Jen Carroll's life is way suckier than yours.
The Life After Top Chef crew all met up at the Aspen Food and Wine Classic, where they were doing showcases, along with Top Chef: Texas winner Paul Qui, who was there claiming his Top Chef prize. During prep, it was revealed that Jen's scallops went missing and she had to revamp her dish at the last minute with what she could find in the hotel fridge: frozen shrimp. Yikes. Also, Blais does a spot-on impression of Spike, who shows up approximately a minute and a half before service is about to start. (Be sure to take note of Spike's t-shirt in the confessional cutaway.)
Check out the clip of the chefs' Aspen Food and Wine prep below, which certainly feels familiar.
Have a tip we should know? [email protected]