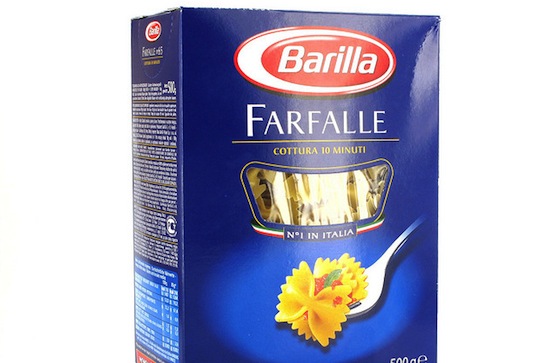 Because 3D printed-pasta will make up for past sins, right Barilla?
Yes, we think 3D-printed pasta is weird and kind of cool, but we can't help but be like, hmmm, Barilla, eh? The same company that went batshit crazy over the possibility of gay people EATING PASTA? (Because the gays are immoral pasta haters, obviously.) And we obviously couldn't overlook this tidbit from project leader Kjeld van Bommel, as quoted by the Guardian (emphasis our own):
Kjeld van Bommel, project leader at TNO [a Dutch scientific organization], said one of the potential applications of the technology could be to enable customers to present restaurants with their pasta shape desires stored on a USB stick.

"Suppose it's your 25th wedding anniversary," Van Bommel was quoted as telling the Dutch newspaper Trouw. "You go out for dinner and surprise your wife with pasta in the shape of a rose."
Maybe not the finest example you could give, given the company's past. Would you let spouses of all genders and sexual orientations print rose-shaped pasta, Barilla? Huh? Huh?!?
Sorry, we don't forgive and forget all that easy. But by all means, get excited for some homophobic 3D pasta coming your way.
RELATED:
'Food is Love': Art Smith Hosts 'Take Hate Off the Plate' Brunch, Tells Barilla to Suck It
Anti-Gay Barilla Pasta Tapped Ted Allen for Nationwide Campaign Back in the Days of Queer Eye
WATCH: Ted Allen & Co.'s Top 3 Moments from the Queer Eye for the Straight Guy Reunion
Have a tip we should know? tips@mediaite.com