Padma Lakshmi Forgot To Tell Marilyn Hagerty When Her Top Chef Episode Was Airing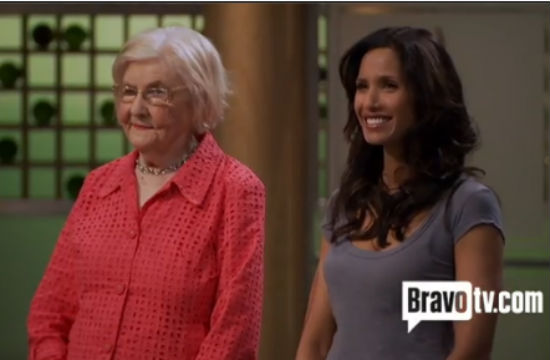 Olive Garden critic and Top Chef: Seattle guest judge Marilyn Hagerty — who shared her episode with the likes of Chris Pratt, Anna Faris, and Rick Moonen — naturally wrote a column for her hometown paper about her appearance, in which she took issue with a certain hostess with the mostest.
Hagerty was unaware of when Top Chef aired (bless her heart), and asked production several times when she would be able to see her episode. They never got back to her, but she kept in touch with Padma Lakshmi, who walked her through her Quickfire judging and promised to let Marilyn know when the episode was airing. Padma promptly forgot. Writes Marilyn:
"It is like pulling teeth to find out when these things will happen. I have been in contact with Padma Lakshmi, star of the show, asking when it would appear. She is a doll and she promised to let me know. But oh my goodness, Padma lives a busy life and didn't get back to me."
And so Marilyn missed her episode. She was told about it airing by a local who managed to see it, but as far as we can tell, Marilyn has yet to catch a rerun.
Yo, Andy Cohen, can you and the Magical Elves help a sister out and send poor Ms. Hagerty a screener copy, please? She's been such a lady about the whole thing.
You can read Marilyn's column about her experience here. (She doesn't address the taco/tamale debacle. Sorry, Micah. And by that we mean we're not sorry at all.)
Have a tip we should know? tips@mediaite.com