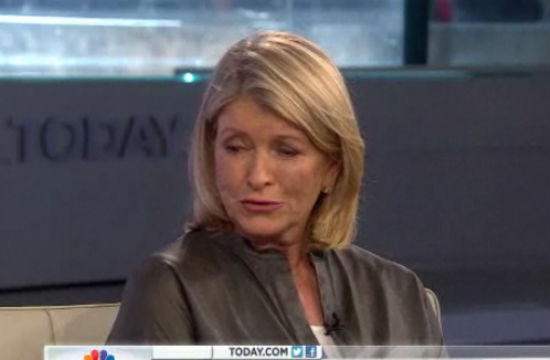 Martha Stewart stopped by The Today Show this morning to demo a cozy, fall chicken fricasee recipe, but the anchors invited her to stay on for their Take Three segment, in which they debate and discuss three viral topics. The first topic of today was Jennifer Aniston's latest Smart Water commercial, in which she spoofs basically every tabloid story about herself ever written. The premise of the commercial involves Ryan Seacrest announcing that the security tapes from the Aniston estate have been leaked, revealing some "refreshing truths" about her. Among them: her hair is fake, she's pregnant with triplets, and she already has two children, one of whom is an alien, and the other of whom is Jimmy Kimmel.
All the Today anchors had themselves a good chortle over the ad and unilaterally praised Jennifer for her sense of humor and ability not to take herself too seriously. Martha, however, was appalled.
"I don't really like it. I just think it makes fun of some things and shows some bad examples to the youth of America. I mean, wrapping a pregnant stomach is not a good idea," she chimed in.
And, for the record, Martha has no sympathy for someone sniping back at the media, saying, "It's funny up to a point, and then it steps over the bounds of sensibility. Is this about her or is this about the water drink that she's promoting?"
Then, there's also the fact that Martha Stewart hates kids who look like Jimmy Kimmel. Hates them. Does anyone else think Martha needs a mood stabilizer slipped into her fricasee? Just us? Okay, then. Check out the harsh clip below.
Visit NBCNews.com for breaking news, world news, and news about the economy
Have a tip we should know? tips@mediaite.com