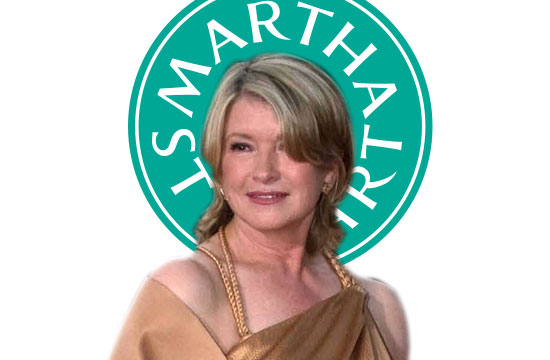 Despite how freaking perfect her entire life may seem (even her Match.com dates are adorable), there is something rotten in the state of Martha Stewart's corporation. In a regulatory filing released on Wednesday, Martha Stewart Living Omnimedia announced that, in order to return the company to profitability, they were slashing budgets left and right — and not even Chairman Martha herself was safe.
"Until 2017," Jezebel reports, "Stewart has accepted:
A reduced annual salary of $1.8 million, $200,000 less than she's making now.
"A new expense policy" that will reduce what business expenses she gets reimbursed for.
$1.7 million a year from licensing her name to products, down $300,000.
Martha Stewart Living will get two-thirds of the money Stewart receives from appearing in productions funded outside the company.
While Jezebel speculates that the problems surrounding MSLO are based on the fact that Martha herself is an Old (poor Men's Wearhouse guy!) and that the company is trying to wean itself off of her perfectly perfect image (which still seems to be extraordinarily resonant with DIY-loving Millenials), the problem with MSLO seems to be based on more than Martha's perfectly-preserved face. The multi-pronged company has had multiple setbacks as of late (an annoying lawsuit against Macy's, the extreme downsizing of Martha Stewart Living, and the fact that despite said Millenials loving Martha, very few of them will actually buy her products), and only time will tell if the fault lies with Martha (seriously, how does she stay so good looking?!), or with a company that seems to have overstretched itself.
[Jezebel]
RELATED:
Macy's Drops Emeril's Line While Coincidentally Suing Its Owner Martha Stewart
Martha Stewart Lays Off 70 Staffers On The Heels Of Hurricane Sandy
Small Victory For Martha Stewart In The Trench Warfare That Is Her Macy's Lawsuit
Martha Stewart In Macy's Case: People Can Have Two Houses, Shop At More Stores
Have a tip we should know? tips@mediaite.com