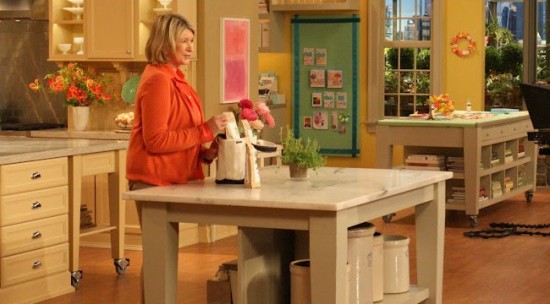 The Martha Stewart Show aired its last episode on the Hallmark Channel today, and it kindly assured us that it would not go gentle into that good night…without teaching us how to make these amazing clay flowers, which is simple when you purchase a Martha Stewart Crafts Clay Kit found at Michaels.
Taped earlier in April, the show aired close to Mother's Day and did that thing where there was a common theme (Moms!) and all of Martha's crafty guests shilled products related to that theme.
Eat, Pray, Love author Elizabeth Gilbert dropped in to share a recipe for her great-grandmother's sour cream cookies, which can be found in her latest cookbook, At Home On The Range, available in bookstores and Amazon now!
Working moms on Martha's staff groaned about how tough being a working mom could be, and oh look, the Oriental Trading Company is giving away treasure boxes filled with things like "an infant carrier, an insulated sippy cup, a dishwasher basket for bottle nipples, a disposable potty, a reusable filtered water bottle, allergy-friendly snacks, and even this plush sheep that makes four soothing sounds"!  Man, the Oriental Trading Company has a lot of great stuff.
Some of her former staffers are selling a book about seven pieces of furniture that you can keep forever!  Buy that book.
And then Lands End gave everyone in the audience a gardening tote from Lands End!  Lands End.
Though the daytime talk show is off the Hallmark Channel, the 70-year-old Stewart will move onto a more sedate form of homemaking:  beginning in the Fall, she will host a weekly television show on PBS called "Martha Stewart's Cooking School," where she'll teach people how to cook, hopefully endorsement-free.
Have a tip we should know? tips@mediaite.com