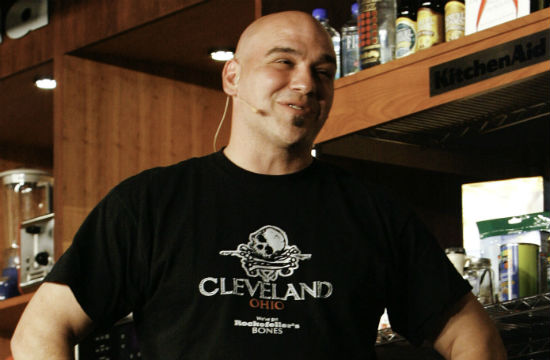 Last night, Esquire Magazine closed out its three-day food-centric Hurricane Sandy fundraising event The Esquire by curating "The Greatest Meal Ever Cooked." With plenty of drinks on hand (made solely from 10- and 12-year aged scotch), attendees tucked into five courses, plus hors d'oeuvres, from a staggering number of James Bearded chefs. We quickly stopped trying to count up how many Tom Colicchio, Michael Symon, Michael White, Jonathan Benno, Linton Hopkins, Mario Carbone, Rich Torrisi, and Christina Tosi held among them.
We caught up with Symon before service, tricked out in his signature fisherman's hat, to quickly run the gamut between his darkest and brightest life-spots: Cleveland sports — and The Chew. He's a notoriously whiny, die-hard Clevelander, but we do admire his blind, blind faith. (Even though he yelled at us a little. He's just passionate.) Check out our chat with him below.
The Braiser: I cannot, in good faith, hold a conversation with you about sports, but I do want to give you an open forum right now to get anything you want off your chest about your Cleveland teams.
Michael Symon: Well, we're moving in the right direction, because The Browns have won their last two weeks, which makes me very happy. I feel like progress is being made, and I'm hopeful for the future, as always. The Cavs are kinda rough this year, but I have faith in them, too. A little concerned about The Indians, but after essentially four or five decades of losing, which Cleveland sports fans have done…
I know, I'm from Chicago. I feel your pain.
[actual yelling] YOU HAVE NO IDEA WHAT OUR PAIN IS! The Bulls have WON. The White Sox have WON. WE have suffered.
Yeah, but I'm from the North Side and thus geographically fated to root for The Cubs!
…Alright, you have suffered.
Thank you. So how's The Chew going in the swing of Season 2?
It's unbelievable. You know what it is? Everything I've ever done in my life with television and restaurants has always been high energy. It's fun in my restaurant world to be doing burger places — we're doing some burger places right now which are fun and casual. And then, in my TV world, to not only do Iron Chef, but to be able to also do a show like The Chew, where we're showing people how to cook food from scratch on a daily basis for not a ton of money and not using a lot of time. It's really the first time I've ever been on television where I feel I'm talking to people who maybe were afraid to cook, and now they want to jump in the kitchen. So it's been very rewarding. It's a blast.
The other four hosts are fantastic. Mario [Batali] and I have been friends for 15 years, but I've become really good friends with everybody on the cast and it's very enjoyable. Surprisingly enjoyable.
Tell us about the dish you've created for The Greatest Meal Ever Cooked.
I'm the last savory course, and I'm doing a braised beef shank, which is like, you know, a big hunk of meat, with some pickled baby beets and baby carrots that have been roasted, with a sauce of fresh horseradish, mint, and lemon zest.
[This interview has been edited and condensed by a non-beef eater who ate that whole plate of beef shank because that's how delicious it was.]
Have a tip we should know? tips@mediaite.com