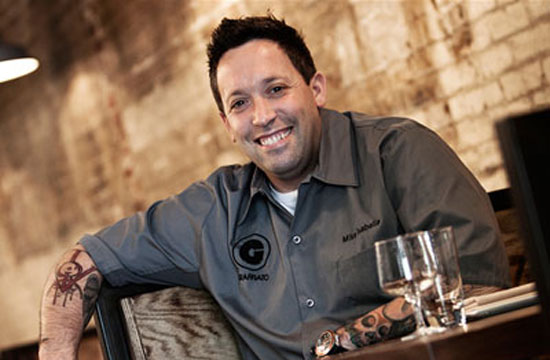 It's been seven hours and fifteen days nearly a year since Mike Isabella opened Bandolero, the Mexican Day of the Dead-themed restaurant crammed into the plush corners of Georgetown in Washington, D.C., but now he has taken his love (and his name) away from the restaurant, announcing this morning that he's cut ties with it.
Isabella, the former Top Cheftestant who now runs Graffiato, a sandwich chain called G Grab-n-Go , and a new Greek restaurant called Kapnos, pointed to his full roster as an explanation for dropping Bandolero. "You know, I own these restaurants," he told The Washington Post. I just want to focus 110 percent on them. I want to keep growing Graffiato, like we've been doing. I don't own Bandolero and I don't have full control of operations, so it just didn't make sense for me to stick along with it at this point anymore."
In fact, Isabella has virtually no control over Bandolero's day-to-day management, and it's probably a good thing, too: Jonathan Umbel, his partner at Pure Hospitality and the owner of Bandolero, is currently caught in a lawsuit with their landlord over unpaid rent, taxes, and "several other grievances." However, Isabella is not named in any of those lawsuits and was allowed to leave the partnership after giving formal notice. Will Umbel soon realize that Nothing Compares To Isabella? Who knows.
Hey, remember when Bandolero got a blah review from the Post's restaurant critic? Yeah, that was fun.
RELATED:
Top Chef All Star Mike Isabella Opens Bandolero In DC
WaPo Food Critic Slams Unnamed Top Chef Contestant's Food
3 Best Burns From WaPo Critic's Review Of Mike Isabella's Bandolero
Have a tip we should know? tips@mediaite.com