Millionaire Tells Keith McNally to Fire Balthazar's Bathroom Attendants, McNally Actually Does It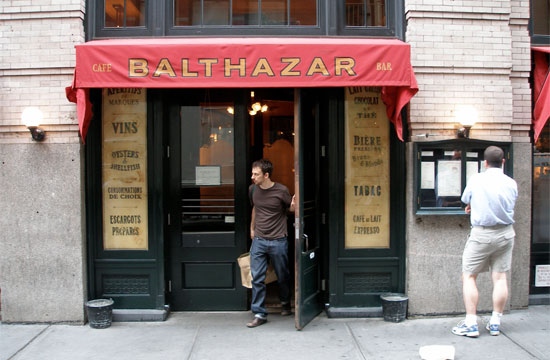 Want to get Keith McNally to fire all his bathroom attendants at famed New York restaurant Balthazar? Maybe you should be an influential millionaire.
Not that any influential millionaire can get Keith McNally to do anything they want. Some schmo with a million bucks can't saunter into Balthazar and say "Mister McNally! I would like you to twerk one hundred times to the tune of Britney Spears's 'Toxic' while wearing this bathing costume." But we're willing to bet that if Henry Blodget, the editor-in-chief of Business Insider, even deigned to ask, McNally would comply. Perhaps McNally would even do two hundred twerks.
Why are we making these specious claims? Because McNally fired his bathroom attendants in a direct response to a blog post Blodget wrote, complaining about how bathroom attendants are inherently awkward.
A week ago, Blodget had to visit the men's room while at lunch at Balthazar, but noticed that an employee was being paid to watch him pee. Disturbed, he wrote about his experience at Business Insider, with the title "Now Let's Discuss The Awful Restaurant Practice Of Having Bathroom Attendants Who Watch You Pee…"
It's not this guy's fault that his idiot bosses make him stand in the bathroom watching people pee all day. The poor guy is obviously doing that job because he has to do that job. I always feel bad for people who have no choice to do bad jobs because they have to — because I happen to be lucky enough to be able to do a job that I love. And that internal dialogue makes me think that, yes, I should tip the poor guy, even though I not only didn't want the service he provided but actually found it invasive, embarrassing, and annoying.
In response to Blodget calling him out — which is obviously the very first time in Balthazar's fifteen-year history that someone has called him out on this, ever — McNally took his request very literally. As he told First We Feast:
"Unfortunately, I completely agree with it and will, in the next few weeks, relieve the restaurant's bathroom attendants of their duties. They're extremely loyal employees who, perhaps surprisingly, love their jobs. But Henry Blodget – despite his dubious business ethics* – has a good point and I happen to agree with it….I'm relieving them of their positions. Absolutely. They'll be unhappy to hear this, but, as I said, I happen to agree with Henry Blodget."
It remains unclear whether McNally is actually firing firing the former bathroom attendants, or bringing them into the front-of-house staff (which is admittedly better than being full-frontal house staff). Blodget hopes it's the former, but that's not important. The important thing is that you can make Keith McNally do anything, such as firing some poor workers who have seen far too many syphilitic banker dongs in their tenure, if you have the money, infamy, and platform to complain about it.
(Someday, we'll have enough Bitcoins to make Keith McNally do three hundred twerks.)
RELATED:
Gael Greene & Keith McNally Confirm Pastis Is Closing, Clear Up Balthazar Rumors
FOOD FEUD: Who Does Keith McNally Want To Put In A Meat Grinder?
Everyone Loves Keith McNally's New Balthazar, Which Giles Coren Calls 'The Greatest Mass Delusion Since Nazism'
Have a tip we should know? tips@mediaite.com