Mugaritz Fined After Animal Rights Activists Discover Illegally-Sourced Foie Gras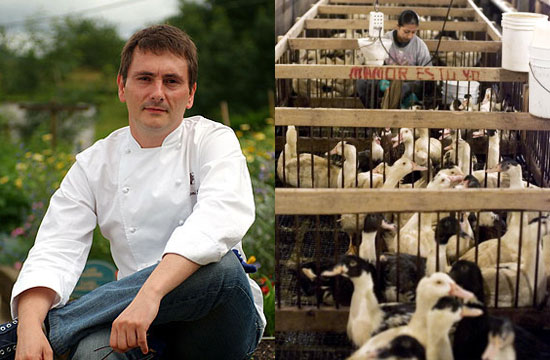 The acclaimed Spanish restaurant Mugaritz was recently fined when animal rights activists revealed that chef  Andoni Luis Aduriz,whom peers voted last year as the world's best chef, had sourced his foie gras from a small, unlicensed farm that utilized illegal practices to procure fattened duck liver.
Earlier this year, the Animal Equality Group revealed that Olga Posse, the owner of the farm where Mugaritz gets its foie, harvested her ducks by not only force-feeding them (a practice still legal in Spain), but also by cutting their throats and letting them slowly bleed to death (totally illegal).  Posse claims that this allows less blood to flow into the liver and thus yields a higher-quality product, which is why she supplies many unnamed restaurants, some with Michelin stars.
Aduriz, however, stated that he was proud of his fine, saying that while he deplored cruelty inflicted upon any living being, he "opposed to any obsessive humanisation of animals which tries to wipe out cultures that form part of our social and cultural diversity," Aduriz said, according to The Guardian.
"A small administrative sanction is a sacrifice I am prepared to accept in order to defend smallholders, artisans and those people who try to maintain our fragile culinary patrimony," he said.
Nevertheless, he's still facing the rabid anger of animal rights activists, and reports receiving threats on a daily basis. Posse herself has fled the country. "It is hard to debate with people who orchestrate a campaign that includes direct insults and wishing that I was dead," he said.
Have a tip we should know? tips@mediaite.com