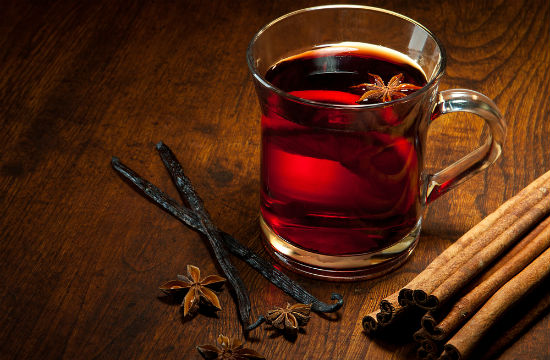 Oh the weather outside is awkward (global warming yayyy), which means that it's the perfect time to wrap your dry, frostbitten, sandpaper hands around a steaming hot cup of whatever you call it: mulled wine, glühwein, glögg. It's all good. Also, get some hand cream, you street urchin.
We had varying inspirations for this particular roundup this week — the "Mulled Wines"/"Blurred Lines" parody; the Lucky Peach in Sweden video of Chris Ying and company admitting that mulled wine is a terrible thing to get drunk on; getting drunk ourselves on the Christmas punch at our office holiday party (which was exactly 6 parts Bourbon to no parts mulled wine; we were sort of wishing for more mulled wine).
Here are five celebrity-chef-studded places you can get your own steaming hot cup of sugarwine in New York this weekend!
1. Smorgasburg. Smorgasbar is allegedly serving up "merlot spiced with cinnamon, cloves, and slightly sweetened with maple syrup and orange" to cure any holiday blues. Keep your eyes peeled for curmudgeonly holiday misanthrope Albeneezer Scrichman! Spotting him means seven years of excellent Christmas goose!
2. The Spotted Pig. To quote the Michelin-starred, April Bloomfield-helmed restaurant itself (via Twitter…restaurants can talk on Twitter): "The wait is over — MULLED WINE IS BACK!" Music to our earstomachs.
3. Red Rooster Harlem. Look upon Marcus Samuelsson's Instagrammed glögg mulling spices, ye mighty, and despair. Or don't! Because he includes the recipe for you to make it at home!
4. Gotham Bar and Grill. Oh, the idea of sugarwine + brandy + cardamom + cloves makes you gag? Fine, go have a cup of mulled cider, which is much less stomach-turning after one too many, at Gotham Bar and Grill. While you're being a fancy pants, we'll be puking.
5. Union Square Holiday Market. And, for the teetotalers among you, you can find fake-ass nonalcoholic glühwein at the Union Square Holiday Market.
Happy CHUGGING.
Have a tip we should know? [email protected]