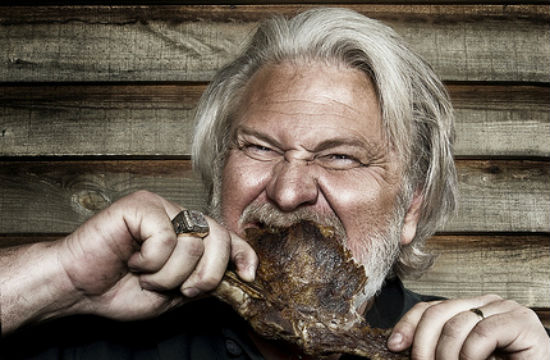 If barbecue is the backbone of America, then we would like to roast America on a spit and smother it in condiments. BBQ Pitmasters star and judge Myron Mixon spared some time to chat with us about America's greatest culinary tradition, while gearing up for the Big Apple Barbecue this weekend in New York. From his most meaningful accolade out of a head-spinning number of championship titles, to his weakness for Art Smith's fried chicken, to a fascinating history lesson on BBQ in the 1700s, Myron is a wealth of vinegary knowledge that had us salivating for the upcoming weekend's festivities. Check out our interview with him and see what Myron can teach you about Q!
Who's your BBQ or culinary icon?
You know, I do get to meet a lot of I guess you could call them "celebrity chefs," and I admire every one of them. But as far as barbecue icons, it would probably be some folks that you wouldn't recognize. First and foremost would be my dad Jack Nixon, who my company's named for, Jack's Old South. But the guy or the gentleman that really set the bar for me, especially when I started competing back in 1996 was Pat Burke from Murphysboro, Illinois.
I know you're familiar with Blue Smoke and maybe you even know the name Mike Mills, who consulted with Danny Meyer when they built Blue Smoke and everything. Well, Pat Burke was the other half of Mike Mills' competition team back in the day — the Apple City Cook Team out of Murphysboro, Illinois. And Pat Burke and I got to be close friends because I was basically chasing him. He was the man to beat. He was the man that I chased trying to become the man. Pat right now is like, 73 years old. He just retired this year from competitive barbecue. He didn't teach me how to barbecue — my dad did — but Pat Burke taught me how to be a champion, and I really love him for that.
Who or what restaurant served up your favorite meal?
We'll talk about barbecue. The barbecue that stands out for me the most, besides what we cooked and my family cooked is Fincher's Barbecue. It's in Macon, Georgia, about 30 miles north of where I live. It's been there since 1927. And this is barbecue that my dad, before he really started barbecuing commercially, his dad took him to, and my dad took me to it, and my wife when she was pregnant craved this barbecue.
If you could have any chef in the world cook for you, who would it be?
Now as far as restaurants overall, it would probably be fried chicken by Art Smith. I love Art Smith's fried chicken. You know, he's got a restaurant in DC, Art and Soul, and I love fried chicken everywhere I go. That's one of my weaknesses, if you want to call it, and Art Smith cooks probably the best fried chicken I have ever eaten.
I would have Art cooking me fried chicken and red velvet cake. I love red velvet cake. He does that well also.
If you could cook for anyone in the world, who would it be?
I'll tell you who I would love to cook for and he's a South Georgian. Ted Turner! I would love to cook for that guy. Because he's big on the outdoors. He's got that buffalo burger thing going on with his buffalo herds he's doing. He's kind of outspoken, kind of like me, and no-holds-barred, and I like the guy.
To what do you attribute your "celebrity chef" status, if you do, in fact, think of yourself as one?
I think it was probably by the sheer numbers of wins I've had in competitions. I've won more than anybody else ever has in competition. But with that being said, competitions aren't the only thing that people can gauge you by. You've got to be approachable. You've got to be able to — for short of a term — be able to speak. Be able to present your ideas about what you're doing, in my case, barbecuing, and making people understand it.
And I'm not saying there's not better barbecue folks out there. But you've got to make the masses understand what you're trying to convey to them about this meal, about this food, and about how good it is, how easy it is to get done and prepare. And I don't know if I've got that or not, but I think I do. And I think I get that from my grandmother and my mother, because they used to do a lot of cooking for the churches and stuff, and they'd get together and they'd pass recipes around and that's what they would do. They didn't have them written down, they'd have them in memory. So you had to be able to express yourself and get those recipes out by word of mouth only.
Imagine you're teaching BBQ for Dummies: what are the basic must-dos and/or steps to follow?
I don't think anybody's dumb that's doing barbecue. I'm glad they're doing it. A lot of times the misconception that happens with barbecue is people try to make it something it's not. Barbecue is a very simple food, and you need to take it from that approach. And it's not something that you should be scared of. I mean, you do it in your backyard. There's not really any way for you to mess it up, other than the fact that you might overcook it or whatever.
But it is a very approachable food. It's a simple food. It's been around for hundreds of years in this country. You need to take simple ingredients, things that are already in your pantry. You don't need try to get out here and make it taste like something it never was intended to be. I was telling someone today, a lot of times we try to make things complicated. And I like chocolate cake and I like my ribs, but I don't want my ribs tasting like chocolate cake. So keep it simple, and I know that's kind of a cliche now, but it is [true]. Don't try to make it something it's not.
NEXT: MYRON'S BRIEF HISTORY OF BBQ, ABRIDGED
Have a tip we should know? tips@mediaite.com