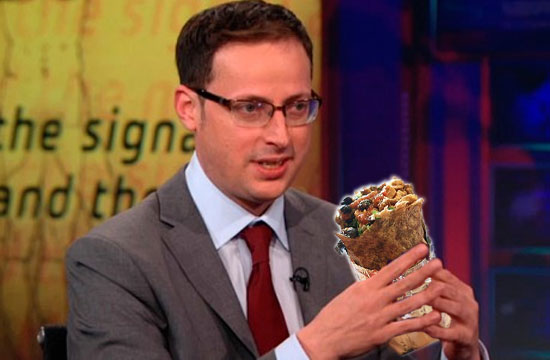 After witnessing his eerily accurate prediction of the outcome of the 2012 presidential election, every pundit and wonk in America has some sort of romantic and/or sexual fascination with New York Times blogger and statistician Nate Silver. (See: Drunk Nate Silver tweets, and numerous op-eds by pundits predicting the end of punditry.)
Here's something that will make you, dear Braiser reader with an inclination towards politics and geeky men, love him more: he once used that massive brain of his to find the best burrito in Chicago's Wicker Park — and he wrote a blog about it.
Eater dug up The Burrito Bracket, an old Nate Silver project from 2007, where he "set up a playoff bracket of 16 taquerias, all of which are within walking/biking distance of [his] apartment.
"Each week, I will consume some tasty Mexican food staple from each taqueria, and determine which one is better," he wrote. "Pretty simple, huh?"
Of course it's not simple. It's Nate Silver, comparing burritos against one another. Here is the description of only one of the rules:
Items will be consumed on the premises; burritos can lose a lot of their gusto even from a simple 5-minute walk back to the apartment. However, the scoring will be determined almost exclusively based on the taste and quality of the food; things like service, "atmosphere" and price will only be used as tiebreakers. You don't go to a taqueria for white-tablecloth dining.
Even in reviews, those qualitative beasts, he doesn't let up on the number thing:
All right, let's be perfectly honest here. There was pretty much no way that Picante Taqueria was going to defeat El Taco Veloz. Not after Veloz's spectacular showing earlier in the week, and not when Picante is such a bare-bones operation that they don't even have a seating area. Mathematically, this would have to be just about the best burrito I'd ever eaten for Picante to make up the points it's losing in the service and experience categories. So, Picante was a little bit of a lame duck heading into yesterday's visit. That doesn't mean that it's without its redeeming facets, however
Oh, Nate Silver. This is probably the only time we have ever seen an Excel chart on a food blog.
Sadly, we will never truly know what the quantitatively "best" burrito in Wicker Park, Chicago is, because he abruptly stopped posting in November of 2007 midway through the bracket, likely to start tracking polls for the 2008 election. Doubtless, though, had Silver continued with this project, he would have eventually figured a way to render the entire field of restaurant criticism obsolete.
[The Burrito Bracket via Eater]
Have a tip we should know? tips@mediaite.com