New York Times Food Writers Kindly Request That These Imaginary Restaurants Open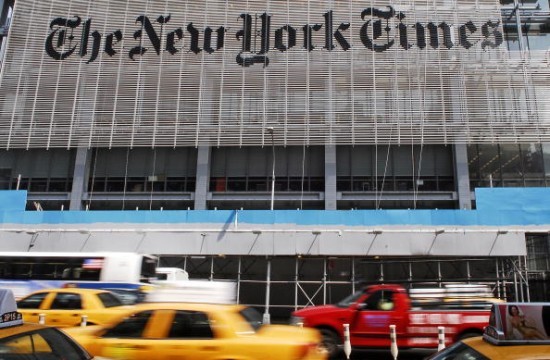 Ah, to be a food journalist at the New York Times, where everyone wears bow ties and smells like fresh printer ink; where Mark Bittman skulks around like a grumpy Jewish uncle, ready to throw rice at you or grumble at your Republicanism, if you are of that persuasion; where one can help Pete Wells brainstorm pseudonyms for booking tables at restaurants. ("Weet Pells" is not an option, you lazy imbecile.)
But to be a journalist at The Paper Of Record is to wield an unholy power over the restaurant industry, which is why they recently put together a list of the restaurants they wished would open in New York City. (Okay, it was under the guise of adding a fantasy wish list to Florence Fabricant's annual list of notable restaurant openings, but a successful restaurateur reads between the lines.)
Why, with some even stronger words and a few more inches of copy, FloFab could probably get Laurent Gras to "[get] his act together and [open] a restaurant in New York," or Joel Robuchon to "reopen L'Atelier somewhere." Sam Sifton could perhaps get Marc Forgione to open that Upper West Side restaurant. Eric Asimov could get every restaurant in the city to boast a "wonderful list of sherries, ciders and beers." (Asimov, is there a problem you're not telling us?)
Heck, Glenn Collins's dream project of a "destination-location chopped-pork barbecue establishment that is faithful to the epistemology of Eastern North Carolina" could be feasible, if she were even more blatantly obvious about it:
It should be a weathered, rickety roadside shack with nonexistent signage, a gravel parking lot and no name.

The menu is necessarily limited. We are talking juicy, fatty chopped barbecue only — pit-fired from hard wood — from a pork shoulder or whole hog. It is to be served on a paper plate awash in a bath of cider vinegar with a bit of salt and red-pepper flakes. There must be hush puppies on the plate, yielding a crispy, corny, buttermilk taste. The fresh, cool coleslaw should be moist, but not runny enough to transgress upon the hush-puppy domain.

The plate should be alarmingly flimsy, and it must rest on a faded vinyl checked tablecloth. The forks and knives should be made of white plastic and stingily supplied, as if they are about to run out at any minute. The odd-lot tables should be rickety enough to defy any stabilization from strategically placed matchbooks. A greasy bottle of house-made hot sauce will keep the barbecue fundamentally honest.
We're pretty sure this means Collins is kidnapping a member of the Fatback Collective after Meatopia.
[NYT]
Have a tip we should know? [email protected]