Padma Lakshmi On Top Chef, Treme, And Why Richard Blais Was Destined To Lose His First Season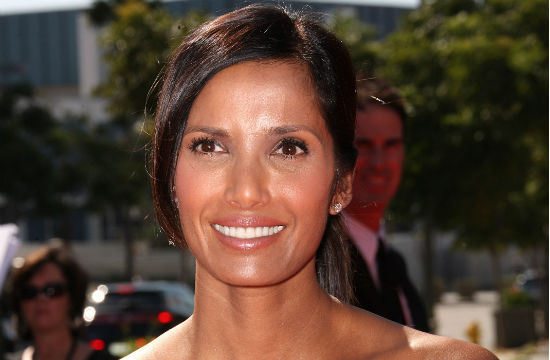 Wouldn't it be cool to sit down with Padma Lakshmi and just shoot the shit for a while about your favorite Top Chef moments? Well, we spoke with the Bravo host while she was making the rounds with the Sterling Vineyards Ultimate Host contest, and picked her brain about all things Top Chef. FYI, Padma's best hostessing tips are 1) don't spend a lot of money, 2) wear your duties lightly, and 3) keep it simple and let the food and wine speak for themselves. No wonder she remains flawlessly worry-line-free and otherwise easy breezy in the face.
After ten seasons of Top Chef, you'll be impressed with the moments Padma vividly remembers (including the time Gail Simmons fell asleep at judges' table), but her "Padma Fan Favorites" might surprise you. We even talked about her 30 Rock cameo, the odds of a Treme appearance, and, of course, the infamous Sesame Street Quickfire.
Check out our Q & A with Padma below to see how she remembers Top Chef, plus read about her firm, cosmic belief that Richard Blais was meant to lose his first season.
The Braiser: One of our all-time favorite Top Chef moments was when you filmed the Quickfire with the Sesame Street gang.
Padma Lakshmi: Me too! I don't know what it was [about them], and I didn't know what to expect. Obviously, I grew up, like we all did, with Sesame Street, but, I don't know, they just turned on this special place in my heart, and it unleashed this inner host that was burgeoning. I think I'm just so serious on the show, because of what I have to do all the time, that it was nice just to exhale. And it was a lot of fun! Are you kidding me? We always beg Sesame Street, we're like, "Please let me on there!" And they've invited me, but it's never worked out with my schedule, or they're filming in LA — who the hell knew they filmed in LA?! — so it hasn't worked out of yet, but I loved that episode. That's my favorite, favorite episode.
Well! Now we have a possible Sesame Street cameo to look forward to! When are you going to join Tom Colicchio and all those Top Chef regulars for a Treme appearance? You did a really great 30 Rock cameo once, so we know you're good at it!
[30 Rock] was a lot of fun and the best part was that they're right in Long Island City, so I didn't even have to leave my bed that night. I could just do my work and come home. I'm always open to doing that kind of stuff. My schedule gets really full, and now that I'm a mom, it's very hard. I haven't mastered this time management thing. I feel like I'm already always dispersed a bit, but I'd love to do something like [Treme]. I think they're probably cheffed out at this point. Not that I'm a chef! I'm not, but you know, they're probably foodied out.
Not true! We just talked to Chef Alfred Portale who did a cameo for this upcoming season.
Oh, I love Alfred! Wow, they've really done everybody! Alfred is kind of the old granddaddy of those guys. If you talk to Tom, it's like, André Soltner, and Alfred Portale. You know, they love him. And Alfred is one of the first people in New York. I mean Gotham's been open for so long now, and I'm never in that neighborhood, but if you go to Gotham, still, that tuna carpaccio or tartar or whatever is still so amazing. It still stands up, all these years later. Somebody recently re-reviewed Gotham and they said, you know what? There's a reason the old master is an old master. It's amazing.
We also recently chatted up Gail Simmons [Ed Note: stay tuned!] and we were really impressed with her ability to recall very specific moments and favorite contestants from the past ten seasons. Is there anyone who sticks out in your mind as a Padma fan favorite, who maybe didn't win, but you still remember?
A lot of them. I mean, Kevin from Atlanta, from the Woodfire Grill. Carla Hall, because Carla is one of those strange exceptions — she came from a catering business. It wasn't like she was a chef. And you could taste, visually and sensually taste, that she was actually learning on the job. She was actually inspired and influenced by whatever had happened the last week. You could see her food improving and improving and that was a delight to watch. We were doing the tennis competition, and she served a peanut soup. Like, at the US Open, a fucking peanut soup, and she won! Because it was so yummy! So that takes a lot of courage. I remember Carla for that. And also, she's just such an enthusiastic, joyful spirit. Tiffani Faison from that season, as well.
See, I think in the moment that season we were in Puerto Rico — and Gail wouldn't remember this because she fell asleep on the table, because it was a really late night — that Richard Blais should have won and he didn't and Stephanie Izard won, was actually good for both of them. And here's why. Because Richard got to come back and win, and the reason he won the second time was because he stopped cooking with his head, and he started cooking with his mouth, and his heart, and his tummy. And it was a much more visceral thing. Like, he was so pissed that he choked! He should have made that pork in his sleep. He just didn't let it rest, and he knew he should have done that. And he rushed it. And for him to come back, it made him a better chef, it made him a better restaurateur, it gained him way more of a cult following and a fan following, and it did wonders for Stephanie.
We still wouldn't have a female Top Chef, though, if it wasn't for Stephanie!
That's right! And she totally deserves it. What Stephanie has done post Top Chef has been amazing. I mean, I haven't been to The Girl and the Goat, but I ate her food day in and day out for six weeks. I think she deserves it. I still remember the first thing she made — she won the first Quickfire! People don't remember that. She made a duck spring roll that was fantastic. And she did something really clever with the sauce, it was a plum sauce, but it wasn't a gooey hoisin plum sauce. It was amazing.
I remember the only two things that I spit out. Arianne and her lemon curd at Craft, I remember the guest judge was Donatella Arpaia, I remember all kinds of useless information.
It's been so long, and you have to feel somewhat responsible, as someone so closely involved with the show, for how it's spread awareness about food. One of the things Gail mentioned was how there are now kids who have literally grown up watching Top Chef who have this incredible vocabulary of food.
I'm amazed. That's one of the things I'm most proud of on behalf of our show, is that kids come up to me, like ten, eleven year olds, and they say, "Oh, I had a sleepover, and we had an amuse bouche contest!" An amuse bouche Quickfire! Like, those four words strung together, I never thought I was going to be responsible for introducing into the American lexicon.
And by the way, people all over the world [watch it] — like, Top Chef is in 40 countries. That's a big deal. People from the Netherlands, people from Argentina, people from the Philippines — and then people have licensed it. Like I think they have a Top Chef Canada, and the woman who actually hosts it is an Indian model who's become an actress and was in the movie Water. It's really funny how it's become a part of popular culture in this great way. And I think that's because you don't have to be a professional chef to feel really passionate about food and wine. You inherently have been consuming since the day you were born, and so we all have very fully formed opinions about that.
Season 10 of Top Chef (Seattle!) kicks off Wednesday, November 7th at 10pm ET on Bravo. Stay tuned!
Have a tip we should know? tips@mediaite.com