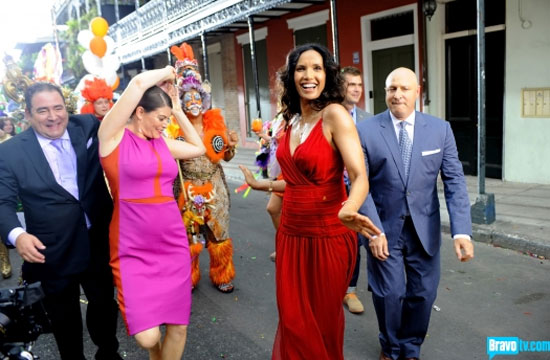 We were so excited to share the premiere of Padma's Picks, the new Bravo webseries where Padma Lakshmi selects hot young New Orleans chefs to compete on Top Chef's 11th season, with you. We were so thrilled. We were deliriously giddy with delight, really, we were.
Now we can…in six episodes, released all at once like some reality TV version of the new season of Arrested Development, or Star Wars starring Padma Lakshmi. We're slightly overwhelmed, but we'll troop through it. Have a good hour or so to kill? Sit tight, because we have all of the episodes right here. (Don't forget to stretch before sitting down, because otherwise you might have back issues.)
In Padma Wars Episode I: The Grande Dame Menace, Casey Morvant (Armaud's) and Michael Sichel  (Galatoire's, 33 Bar and Steak) fight some sort of battle based on their intense, burning rivalry against each other. Cue the fight music:
In Padma Wars Episode II: Attack Of The Chefs, Donald Link introduces her to hot young things Justin Devilier (La Petite Grocery) and Michael Doyle (Maurepas Foods). Also, Padma doesn't eat her entire po-boy, which is lame:
(We would have Padma Wars Episode III: Revenge Of The Dive Bars, but for some reason, Bravo has not posted it online. Ugh, get it together, Bravo.)
In Padma Wars Episode IV: A New Hope For Fine Dining, Susan Spicer introduces Padma to Bradley McGehee (Ye Old College Inn, Rock and Bowl) and Nick Lama (Gautreau's/Sue Zemenick's sous chef on Battle Of The Sous Chefs, for reals), where they show off New Orleans's fancy side:
Synopsis for Padma Wars Episode V: The Food Truck Chefs Strike Back: Padma visits Tory McPhail, gets drizzunk on Sazeracs, and then leaves the gilded Commander's Palace to judge two food truck chefs. Ready, Benoit Angulo (La Cocinita) and Chris Wadsworth (Bon Repos)? Fight!
And finally, Padma Wars Episode VI: Return Of The Top Chef Kitchen. Five chefs enter, two chefs leave.
Whew! That was exhausting, no? Let's get Sazeracs. If you skipped to the bottom for spoilers: one, you're so naughty and Padma will spank you, and two, Justin Devillier (La Petite Grocery) and Michael Sichel (Galatoire's) won. Whatever, let's still get Sazeracs.
RELATED:
WATCH: Padma Lakshmi Personally Chooses Top Chef-testants For New Bravo Webseries
Padma Lakshmi On Top Chef, Treme, And Why Richard Blais Was Destined To Lose His First Season
Top Chef Announces The Return Of Last Chance Kitchen
Have a tip we should know? tips@mediaite.com