Paula Deen Defends Use Of 'N-Word', Wants Black Employees To Dress Like Slaves (UPDATED: And She's Fired)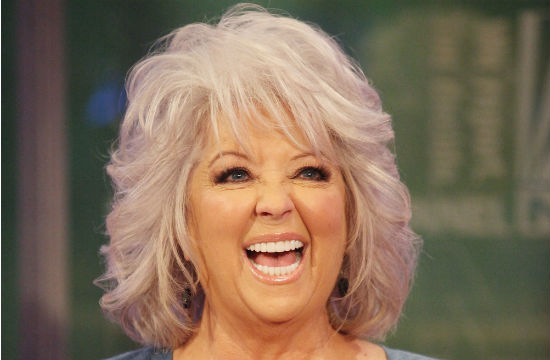 Just when we started liking Paula Deen, she just has to turn around and start nonchalantly defending her heinously racist jokes and desires. Well, okay, this latest report about Deen's comments on a videotaped deposition came from a "National Enquirer Exclusive", but we do know that she's facing a lawsuit filed by a former restaurant employee for admittedly using the "N-word" to refer to her black employees.
UPDATE: The Food Network FIRES Paula Deen For Racist Statements
To recap the facts of this $1.2 million lawsuit: a former manager of Bubba's Oyster and Seafood House, the restaurant owned by Deen's brother Bubba, claimed that not only did Bubba repeatedly sexually harassed her (by, say, passing photos of two women having sex around at a staff meeting), he also frequently used racial slurs to refer to black employees, and segregated bathrooms and entrances. The lawsuit claimed that Deen herself tossed around the "N-word" repeatedly, even at one point suggesting that she wanted "a bunch of little n***ers to wear long-sleeve white shirts, black shorts and black bow ties, you know in the Shirley Temple days" to tap dance at a Southern wedding.
When asked in the video deposition why she would even think about saying that as a media figure who doesn't live in the 1960's, Deen allegedly said that after visiting a restaurant with an all-black waitstaff, she really, really, really just wanted to have an entire pre-Civil War dinner where the black people were all slaves.
Really:
"The whole entire waiter staff was middle-aged black men, and they had on beautiful white jackets with a black bow tie.

I mean, it was really impressive. That restaurant represented a certain era in America…after the Civil War, during the Civil War, before the Civil War…It was not only black men, it was black women…I would say they were slaves."
But Deen, who admitted to using the "N-Word" repeatedly during the videotaped deposition ("Yes, of course") doesn't understand why this racism thing is so offensive to y'all, in the most Enquirery quote of them all:
"It's just what they are — they're jokes…most jokes are about Jewish people, rednecks, black folks…I can't determine what offends another person."
Obviously, the Blogger Surgeon General warnings apply here due to the fact that it's a National Enquirer story — but 1) it does match the allegations made in the lawsuit, though that could have been the result of careful research on their "unnamed source's" end and 2) Paula Deen has a really bad history of Not Having A Filter and saying really regretfully dumb stuff. See: here, here, here, here, here, here, here, here, and especially here. Casual racism? Ehh, not too much of a stretch.
Oh, and 3) the National Enquirer is sometimes capable of utterly destroying the careers of prominent politicians.
UPDATE: TMZ publishes a transcript of Paula Deen defending her use of the N-Word, and her lawyers (kind of) respond.
SECOND UPDATE: Paula Deen Skips Appearance On The TODAY Show
THIRD UPDATE: Paula Deen Responds To Scandal in Three Awkward Videos
FINAL UPDATE: Paula Deen Fired From Food Network
FALLOUT: Twitter Responds Angrily To Paula Deen's Video Apologies
[Radar Online via Jezebel]
RELATED:
9 Other Colossally Stupid Paula Deenisms
Paula Deen: Corporate Endorsement Was A Sign From God To Go Public With Diabetes Diagnosis
Gordon Ramsay Claims Marcus Samuelsson Fabricated 'Black Bastard' Story
Follow Tina on Twitter @Tina_Nguyen.
Have a tip we should know? tips@mediaite.com