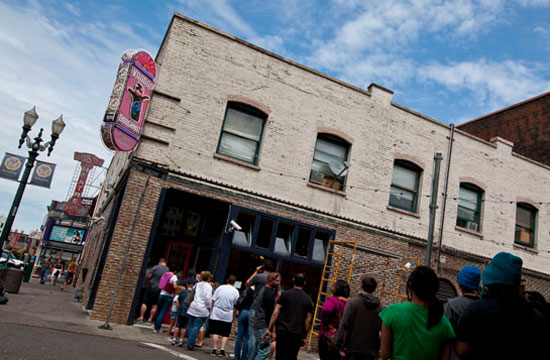 The dream of the '90s is now alive in Denver as well as Portland, if by "dream of the '90s" we mean "weirdo crazy doughnuts". The infamous Voodoo Doughnut, a mainstay of Portland's uber-hipster food scene and renowned for acid-dream doughnuts topped with bacon and maple syrup, Cap'n Crunch, and NyQuil (once), announced that they would, finally, expand.
But why Denver, of all places? Why not go to dorky but hip Seattle? Why not pull an Andy Ricker and open a restaurant in Brooklyn (we selfishly ask)? In thisOregon Live interview, co-owner Tres Shannon describes the neighborhood where he and Kenneth "Cat Daddy" Pogson will set up shop:
"It's on East Colfax, this great gritty avenue, which used to be really, really scary and sleazy," Shannon says. "It's kind of like being on Burnside. There's a dentist nearby and a wonderful … lesbian bar with a pink pool table, the same color as our boxes. That's a good sign. And there's a tattoo parlor and then a medical marijuana dispensary. It's kind of like one-stop shopping… It's got a young population. It's health-oriented, sort of like Portland — ironic, since we sell doughnuts. But everybody likes doughnuts."
But Denver wouldn't be Denver without a good ol' strain of crunchy granola libertarianism: Voodoo will receive generous tax credits from the City "if it eventually hires more than 35 employees, applicable retroactively."
Is this an episode of Portlandia or something? Because this is the only time in the real world that a lesbian bar and a medical marijuana dispensary would create a wholesome environment for a doughnut shop. Truth is, though, this couldn't be a better time for Voodoo Doughnuts to open shop in a new state, seeing as Colorado recently legalized marijuana and Oregon's only beginning to consider legalization. Weed money, yo.
Have a tip we should know? tips@mediaite.com