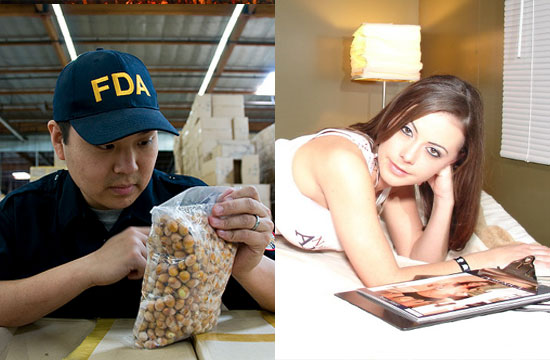 Professor Doug Powell is apparently both an expert on food safety and porn, if his recent statements made to the Alberta Food Processors Association are any indication. Speaking about the lax nature of food safety culture, he came out with this pretty damning statement: "I would argue that the porn industry is more responsible than the food industry."
While no farmer or restaurateur in America wants to be called "less responsible" than a high school dropout who's made a career out of committing sex acts with niche appeal, Powell has a valid point. In the video on his site BarfBlog.com, Powell points out a crucial difference between the two industries when it comes to outbreaks of communicable diseases — e.coli, say, in beef, or STDs in…other beef.
In porn, performers are required by law to undergo mandatory STD screenings, rather than just being told by producers to wear condoms. If a case of anything is discovered, the entire industry will voluntarily shut down. This, Powell argues, is an outstanding example of an industry baking public health practices into its own organizational structures. (A Californian ballot measure from last year requiring condoms on porn performers would beg to differ.)
In contrast, Powell argues, the food industry tends to put the burden of outbreak prevention on consumers, with extremely helpful tips such as "cook your burger more", "please don't buy this pot pie," or "just wash your hands, you dirty freak" (paraphrased), instead of stopping contamination at the source — their own factories and distribution networks.
So is it safer to put penises or food in your mouth? Let's see what statistics have to say: The Center for Disease Control estimates that each year, 48 million people fall prey to a food-borne illness, whereas the AIDS Healthcare Foundation says that the incidence rate of disease (a.k.a. new infections) in porn performers is…34 times higher than that of the general population. So okay, maybe not a porn performer's penis (which makes Powell's metaphor a bit of a stretch), but with the porn community being sexually self-contained, and only 20 million new STD infections every year among the general population, one is more likely to get sick from crabs, than to actually get crabs.
One of Powell's solutions involves in-house campaigns of "shock and shame," intended to get restaurant employees to wash their hands more often. Wouldn't it be easier to tell a waiter that a porn star is better than him at washing his hands? That's some pretty good shame right there.
[BarfBlog via Food Production Daily]
Have a tip we should know? tips@mediaite.com