RANT: Why I Love PBS Cooking Shows More Than Every Other Food Show Out There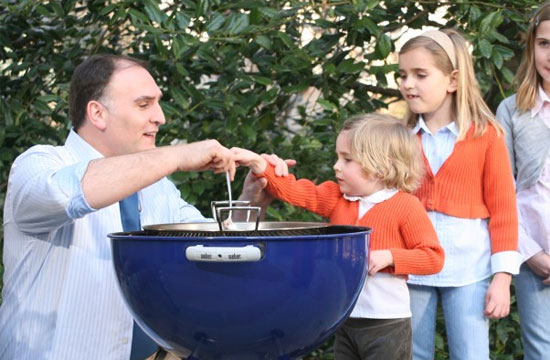 It's been nearly a year since The Braiser launched, and while my coworker Mariella Mosthof has built up an improbably strong immunity to television, I'm totally crippled by how much food TV exists out there. (This is why we call Mariella the "television person," and when she dies, her brain should be donated to Science to research a vaccine for postmodern ennui.) Prior to coming here, in fact, I'd been a political(ish) reporter in Washington, and food shows like Top Chef, Cake Boss, and whatever sass machine Bravo threw on the air, served as a welcome break from the horrifying maelstrom of political reality.
Nowadays, my litmus test of the quality of any food show is whether I can bear watching it after a long, long, long day at work. Subsequently, the only food shows I enjoy — in fact, the shows I can actually stand to watch — are on PBS.
I am being completely serious.
Yan Can Cook, for sentimental value. This was how my mother learned how to cook, though she adorably mangles Martin Yan's catchphrase all the time.
Made In Spain with José Andrés. Honestly, he doesn't even need production values or a fancy camera setup. That man's strange charisma can carry a show through sheer force of will.
Avec Eric. The physical effect of Eric Ripert's voice is like having a pile of newborn kittens fall asleep on you.
And, of course, I have to mention The Mind Of A Chef, which just got nominated for a James Beard Award and probably deserves to win. Somehow, there's something about PBS's editing and cinematography — the steady camera, the low decibel level, the simple idea of people just walking and talking and eating around the world (where the hell are the ATV crashes?!) — that negated the loud, brash quality of show I normally expect from Anthony Bourdain and David Chang, the media-anointed "Bad Boys Of The Culinary World." Yet for some reason, watching The Mind Of A Chef is as soothing as watching jellyfish undulate to ambient techno. (Heck, even Chang's bleeped cussing is therapeutic, when it's on PBS.)
So what happened to all those other shows I used to watch — Top Chef, Iron Chef America, Masterchef, etc.? Why does it take so much effort to even attempt to watch more than ten minutes of The Taste? One of the prevailing theories in the "Why The Current Generation Of Food Television Sucks" discussion focuses on the gladiatorial aspect of cooking competitions: bright arenas, dramatic music, scared cheftestants of varying ability saluting Gordon Ramsay/Ludo LeFebvre/Anne Burrell as if they were about to die. In a long takedown of food television, Andy Greenwald of Grantland rolled his eyes at the current sacrificial offerings on the Food Network:
The schizophrenic network seemed committed to the idea of separating its viewership into either cartoony warriors or overmatched civilians, presenting the kitchen as either a battleground or a ticking time bomb. Food itself was either impossibly out of reach or beside the point, like fat floating on the surface of a broken sauce.
Personally — and I think this might be a common impulse among humanity — I love things that combine food and competition, and as long as people retain an interest in seeing who can cook the tastier food, its popularity will never die. (Regular readers of the site know that I'm slightly obsessed with the Japanese version of Iron Chef.) But there is a difference — a crucial one — between two people having a cookoff that happens to be televised, and a shiny, bombastic, Hunger Games-type show with swooping cameras, staccato editing, the type of dramatic music that could make Michael Bay give up, and SO. MUCH. FIRE. After a year of editing this site, however, it's hard to even remember what the former show was ever like.
For instance, let's write a brief post-mortem for The Taste. In a month where nearly nine new reality cooking shows were announced, Anthony Bourdain and Nigella Lawson's production was the only show for which we had any hopes last year. Months later, we know how badly The Taste failed, but its failure, and our disappointment in it, stems from so many causes. Obviously, it was jarring to see Bourdain and Lawson outside of their respective, realistic elements and thrown into a sterile-looking kitchen stadium with giant LED screens everywhere. Even Ludo and his grungy version of a suit and tie felt wildly out of place. (We will not spend time talking about how perfectly Brian Malarkey fit into this world.)
But even more unnerving than Bourdain drunkenly wandering around a computer-rendered set was how the show's own, overdesigned conceit drowned out anything remotely related to food. The entire show may have hinged on one tiny spoonful of food, but no one really noticed it against the enormous, soulless set, the judges' table hovering ominously above the seemingly-empty kitchen, and the mammoth size of Greg's ego. At least the intimate size of the Top Chef Kitchen actually feels like a realistic kitchen — no one particularly cares what food is being cooked inside Tron Kitchen, especially if it's a kitchen where even José Andrés' ebullient presence seems inconsequential. (Impossible? Just try to find him while watching the finale.)
Watch José on PBS, though. All the chef needs is a camera, an interesting place, and some other people next to him (they can be super boring people!) to turn 22 minutes into the most exciting show about cheese you've ever seen in your life — and it doesn't require a head-splitting soundtrack or a grandiose, dramatic set. Spain's already a dramatic place.  And to compound the point about loud noises being totally unnecessary for food television, here's a segment from Mind Of A Chef, inside a hole-in-the-wall ramen shop, where no one talks for nearly two minutes. All you can see is one ramen master, intently focused on cooking his noodles — and two gaijin, overwhelmed by the ritualistic process and shooting the camera confused looks — and it's just perfect.
PBS has always made, if not the best, then perhaps the purest food television, because they know how every other network tries to make cooking "exciting" and "marketable", and totally avoids those tropes. The most exciting thing about food, they know, is food: how it tastes, where it comes from, what you can do with it. The chefs they put on their programs might not be the loudest, or the most dramatic, but they are damn good at telling you what they know about food. Anything else is just noise, really — and unnecessarily beats viewers over the head.
In an interview with PopSugar, John Besh, who has his own show on PBS, exhorted the benefits of public television best:
I look at public broadcasting as being very smart and true, so it gives me the artistic freedom to create a show with integrity that's really just all about the food, and you're not getting any pomp and circumstance. My point is to inspire people to cook, and that's really the only venue that I have to do that other than cookbooks.
I, like most of the people who watch food television, will never be a chef. But like most of the audience, I started watching these shows because I wanted to cook and I loved to eat. These days, it seems like PBS is the only network that actually remembers that.
Have a tip we should know? tips@mediaite.com