In Which Richard Blais Is Kind Of, Sort Of, Almost Assassinated In Our Lounge At NYCWFF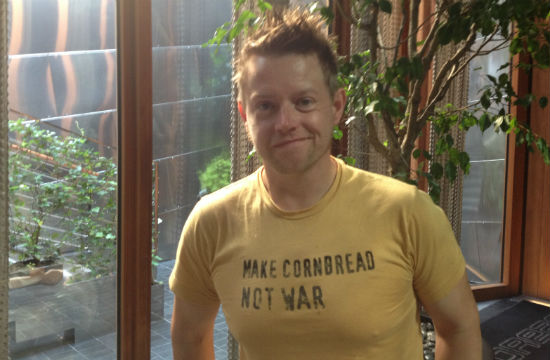 Be still our hearts. Between Richard Blais' crooked smile, his "Make Cornbread Not War" tee, his loving accounts of his two adorable little girls, and crafting a fantasy of the Cubs winning the World Series, a certain Chicago-native in The Braiser Media Lounge at the New York City Wine and Food Festival was a very happy girl. Check out our Q & A with Blais, which includes an assassination attempt, and a remarkably healthy attitude about the generous ribbing we tend to give him, below.
The Braiser: Tell us what you're working on at NYCWFF 2012!
Richard Blais: Right now I'm doing my Farm to Table Brunch with Whole Foods Market. So we're doing a pork belly croissant with a Bahn Mi sort of dressing. The last three days, we've been at the Grant Tastings for Plastics Make it Possible, where I'm talking about sustainability with plastics and recycling. I've been running a lot. 25 miles in the last 3 days here, getting ready for my marathon. I've been eating a lot of room service. I bought a jacket.
Did you actually cook at the Grand Tastings? Manuel Trevino said yesterday not a whole lot of people were really cooking.
We were cooking, yeah. We were talking about these really interesting service vessels we were using. We did a Swedish meatball one day. My team is there right now cooking a microwave cake with liquid nitrogen ice cream, and the first day we did a smoked butternut squash soup. So yeah, I've been cooking each day.
How much has this event been about catching up with other chefs for you and how much has it been about connecting with the fans?
For me, it's about the fans. Especially in a city like New York.  As a native New Yorker, I get a lot of love in New York City, and that makes me feel happy. So, I don't think I'm ever going to get to a point where I'm not going to want to take a picture with a fan. It's about the fans. It's good to see the other chefs, too, but it depends on who they are. Honestly, I think I've seen Fabio [Viviani] enough. Like, I don't really want any more kisses. Spike [Mendelsohn], those guys are hanging out. I just Instagrammed a photo, "Our relationship status is complicated." But other chefs… for me, I'm still a fan boy. I feel like I'm a kid and I'm lucky to be a part of this world. Whatever it is. There are the Jacques Pepins of the world, the Mario Batalis, the Bobby Flays, people that I respect and I look up to. It's kind of fun to be in that circle.
Is there anyone in particular you look forward to seeing or meeting here?
Magnus Nilsson's here. I've seen on the Food & Wine Instagram feed. Tom Colicchio is in every picture with him. So, Tom Colicchio's hanging with Magnus Neilson and Dana Cowin and all the Food & Wine peeps. I just got the Faviken cookbook, and I'm a big fan of anything Scandinavian and presented in a wooden bowl. So I would love to see Magnus. I know he's heading down to Charleston, but he's all the rage right now. It's like the new band.
Is there an event you're looking forward to here or one you've been to already that you were really stoked about?
I'm a dork. Let me get this straight, when I'm done cooking and doing what I'm obligated to do, I like to go back to the hotel room and play video games. I'm being revealing to The Braiser. My publicist is like, "You've gotta get out. You've got to go walk the floor at Burger Bash. You've got to go to SWEET." We went actually went to Burger Bash, we went to SWEET. I had so much fun.
I've had this intimate Twitter relationship with Nick Mangold for the last two years. Now, Nick Mangold is pro-bowl center for the New York Jets. [I'm a] big New York Jets fan. Big football fan. But I'm intimitated. He's given me his phone number and stuff, but we've had this pen pal relationship for two years. Now we're DM-ing and we have email exchanges, but we've never met. And then at Burger Bash, I saw him and it was like running into that girl you've had a crush on for years. And I was like, I have to say something. I ran up to him and we bro-ed it up! We were kickin' it! [publicist laughs] She's laughing because she knows it's true. Nick Mangold! Pro-bowl center! I'm such a boy! That was amazing. So, if I didn't go to Burger Bash I would not have seen Nick Mangold, and that made it worth it.
Congratulations on The Spence.
Oh, thank you.
I know you're going crazy, probably.
Why am I going crazy?
When it first opened, it seemed overwhelming for you based on your press tours around that time.
I worry about everything equally. I guess that's part of who I am. But I have stakes in five different restaurants. We have cookbooks and TV shows, and they all mean a lot. My family means a lot to me. And I worry about all of it, because I care about all of it, and I think that's okay.
Have there been any there been any cool celebrity sightings at The Spence so far?
Atlanta, believe it or not, is a big place for movies to film in, because they get some sort of tax break or something like that. So a lot of Hollywood movies get shot in Atlanta nowadays. We've had the cast of The Hunger Games, some people float in from Hunger Games. We've had a couple of super stars, I'm not going to call them out, but we get some people in. It's not super LA or anything like that.
Carla Hall and Padma Lakshmi had the nicest things to say about you. Padma has a very cosmic view on how you were meant to lose your first season of Top Chef so you could come back and win All-Stars. Any thoughts on that?
Well said, Padma. I don't know about the cosmic nature of it, but that's very romantic? It was good for me as a person to go through losing and then to fight back and to win. Winning feels better than losing. I'm a big sports fan, like I've already mentioned, so it worked out. I think when you have a team that's struggled for a long time, when they finally win, that's a moment. The Yankees win so much, when they win, it's like, eh, they won another World Series. The day that the Cubs win the World Series?
AH! I'm from Chicago, you just stopped my heart.
Right? You know what I'm saying! It's like, die-hard! Like when the Red Sox finally won a World Series.
You're The Comeback Kid.
I think there was part of that, and that's just lucky for me. But fortunately, yes, it worked out very well. It's good. You know, I can go on your website and get knocked down a few pegs from time to time, and losing Top Chef knocked me down a few pegs, and that's okay, for people to struggle.
Your episode of The Chew with your daughters and Jazmin was adorable. Tell us more about balancing Family Blais and Restaurant Blais. Like how true to life is the storyline they've created for you on Life After Top Chef?
It's not a shtick. It's a different type of filming. It's a true reality show. Cameras were with us for a number of months, pretty much morning to night, filming everything, waking up to going to bed. Not just the competition, like Top Chef. Early on, we realized, and I wrote a blog on Bravo about it, that we just had to go on with our lives, my family, my business partners, everybody. We just had to get it go. If something wasn't right — for me to pretend like everything I do with my restaurant is perfect, all of the food's perfect, my family's perfect, everything's perfect — it's not. And I think that's what good reality TV is supposed to be about. It's honest. It's a struggle. My best moment of this weekend has been so many people that are watching Life After Top Chef are coming up to me and saying, "Thank you for being honest about that. My family, we struggle with that." And this is not only our industry, everyone, you have family, you have kids, or even if you just have a boyfriend/girlfriend, whatever. It's tough to balance everything. But I will always sacrifice the restaurant or the other work for family. That's a struggle, that's a challenge. I've been here for–
[At this point, a man with a handlebar mustache and a fedora wanders over and sits next to Blais with what some may describe as a flagrant disregard for personal space; he is quickly redirected to a less crowded seating area.]
I thought that was an assassination attempt. Right? That could have been an assassination attempt. A guy in a hat and a handlebar mustache? I totally thought I was going to get shanked. Sorry, let me regroup here. What were we talking about before my life flashed before my eyes? Oh, balancing.
For example, I've been here for four days. My wife flew in Thursday night for one night, just so we could spend a little time together. My kids have been back home. Tomorrow, I have one night in Atlanta, before I'm off to something else in Cincinnati for a few days. And then I'm back in Atlanta for one night before I'm in Austin, Texas. Tomorrow, I have to be with my family. I need to check into my restaurant, too, and I will, but it's more important that I'm going to the zoo with my little girls. That's me being honest, and hopefully people understand that.
You told Esquire that Riley already has 30,000 Frequent Flier Miles. How often do the girls get to travel with you, realistically?
Usually, if we're in any place for a number of days. So, for example, when we shot The Chew two weeks ago, we came in and spent four days in New York. So if I'm anywhere for three or four days, and the kids can do it because they're in pre-school, and they're not at the age where we can't pull them out of pre-school for a few days, then we travel together, as a family. Because they're just old enough now, and we're fortunate enough to have a nanny. Like, my wife can fly in and out of different cities just for a night or two. We travel a lot, and that's good. I didn't get on my first airplane till I was like 18 or something like that. Riley's been all over the country, and hopefully that's good life experience. Just like going on the show, a lot of people are like, "Oh, your kids are on TV? Wow, that's a lot of exposure for your kids." It's like, that might be the only live television experience that my kids have on television for their whole life. So it's life experience. Why not? Like, we can look at that in 20 years. Instead of a home movie, we can watch an episode of The Chew.
And Riley loves it, you keep saying.
They're both amazing. Of course, Embry's very young, so she doesn't know really what's going on. But Riley, even for Life After, Riley would just be like, "Hey camera people!" First of all, she calls them "shooters," which I think is funny. She'll be like, "Hey shooters! Follow me!" And then she's like, on MTV Cribs. She's like, "Check out my room, it's purple." Yeah, you guys are very snarky.
You have a lot of purple rooms!
It's one purple room! The other room is like, blueish-gray. Riley's room is all purple. She's a four year girl who loves princesses. And the other room is like lavender, which I know is part purple… Okay, I see what you're saying.
It seems like a very toddler-friendly palace, the Blais house.
It is. It's a family of princesses and I'm not excluded from that.
Have a tip we should know? tips@mediaite.com