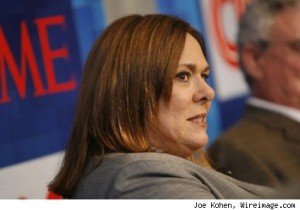 As Mark Halperin writes in a piece for Time, both President Barack Obama and former governor Mitt Romney's campaigns have a little something in common: They've expressed over how CNN anchor Candy Crowley has described her moderating duties for this week's town hall-style presidential debate.
Writes Halperin:
While an early October memorandum of understanding between the Obama and Romney campaigns and the bipartisan commission sponsoring the debates suggests CNN's Candy Crowley would play a limited role in the Tuesday night session, Crowley, who is not a party to that agreement, has done a series of interviews on her network in which she has suggested she will assume a broader set of responsibilities. As Crowley put it last week, "Once the table is kind of set by the town hall questioner, there is then time for me to say, 'Hey, wait a second, what about x, y, z?'"

In the view of both campaigns and the Commission, those and other recent comments by Crowley conflict with the language the two campaigns agreed to which delineates a more limited role for the moderator of the town hall debate. The questioning of the two candidates is supposed to be driven by the audience members themselves — likely voters selected by the Gallup Organization. Crowley's assignment differs from those of the three other debate moderators, who in the more standard format are supposed to lead the questioning and follow up when appropriate.
After lawyers for both campaigns reached out to the Commission on Presidential Debates with their concerns, Halperin continues, the Commission said it would discuss things with Crowley, although it is "not known if such a conversation has taken place."
And there's a precedent in place for the campaigns' joint concern, after all. Four years ago, campaigns for both then-candidate Obama and John McCain felt that Tom Brokaw had asked too many of his questions over those of the town hall audience. Nonetheless, Halperin reports, Brokaw feels confident with the job he performed, telling Time that "while there was some press criticism of the job he did, he heard no complaints directly from the campaigns and a Commission official praised the debate to him as 'good television.'"
Regardless, sources say that both campaigns are prepping candidates for the debate under the assumption that Crowley will take on a more assertive role.
h/t Time
Have a tip we should know? [email protected]