Each week The Braiser's bringing you a local guide to the best food and drink around the world, from quail brunch in London to the only fried chicken worth leaving on Colonel Sanders' Louisville tombstone.
Because you came to Chicago to party, then drank all the best cocktails in town, let the wits, biscuits, and churros, of the city's most famous chefs rescue you with soul-healing cooking, no reservations required. The Braiser ate its way through breakfast, midday breakfast, and way late breakfast at Stephanie Izard, Rick Bayless, and Paul Kahan's hottest restaurants to cure what ails you.
Take a trip to Rick Bayless' Xoco (449 North Clark Street), where breakfast proper runs til 11am and you'll find the Frontera Grill and Topolobampo chef's meaty Gunthorp bacon and two-cheese mollete studded with mushrooms and grilled red onions. Arrive at 11:01am however and you have an excuse to indulge in a plate of nutty glazed churos. Light but with a rewarding crunch, they're drizzled with the brightest, truest essence of pistachio and hazelnut we've ever tasted.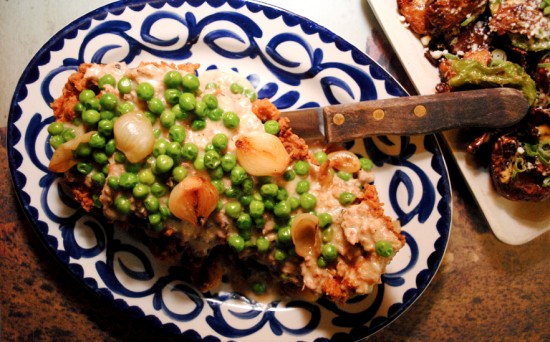 The Chicken Fried Chicken at Paul Kahan's Dove's Luncheonette (1545 North Damen Avenue, 773-645-4060), is only lunch if you call it that. On the menu all day, the battered and wrought mass of boneless fried chicken thighs is smothered in chorizo gravy then bombarded with sweet peas, the wreckage of which is best absorbed by a side of high-piled Texas toast.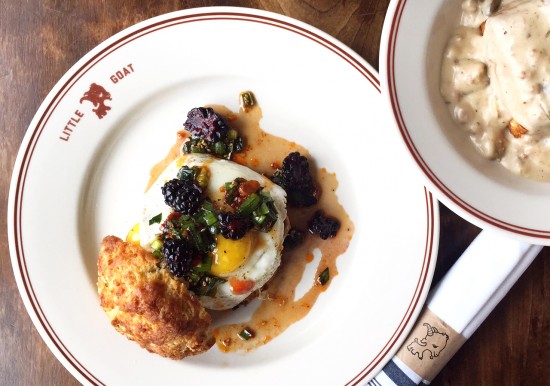 Finally head to Stephanie Izard's Little Goat Diner (820 West Randolph Street, 312-888-3455), as late as 12am for this This Little Piggy Went to China, the westside all-day greasy/fancy spoon. Her latest variation of a fork-and-knife egg sandwich layers a plush sesame cheddar biscuit with an egg-soaked Szechuan pork sausage swimming in chili garlic chive sauce and dotted with tart blackberries, and if they're not tart enough to revive you, pair your evening breakfast with a caffeinated special like their chili-lime infused Americano.
Have a tip we should know? tips@mediaite.com