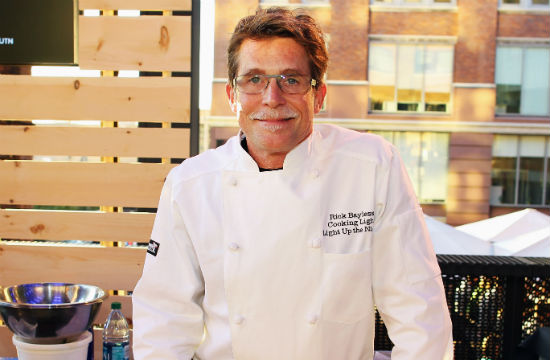 The second annual Julia Child Award has been given to Rick Bayless. The award honors a chef who "has made a profound difference in the way America cooks, eats and drinks." In addition to the honor, the recipient receives a $50,000 grant which this year will go to Frontera Farm Foundation, Bayless's organization which gives grants to small Midwestern farms. He'll receive the award in October at a gala at the Smithsonian Museum of American History during the Smithsonian's annual Food History Weekend. Last years award went to Jacques Pepin.
Of the accolade, Bayless said, "I was incredibly thrilled, and super-honored, when they called and told me I'd been chosen. She was a major influence in my life. If it weren't for Julia Child, I wouldn't be where I am now." He continued, "I used to watch every single 'French Chef' episode. I'd sit in front of the TV and, because I couldn't afford to buy the books, write down and make those dishes. To get this award, it's like my career has come full circle."
He couldn't be more deserving. Bayless grew up in Oklahoma, but a trip to Mexico City when he was a teenager drew him toward making Mexican food. Today, he's the country's best Mexican food chef. Today he has eight restaurants, the most famous of which is Frontera Grill in Chicago, authored eight cookbooks, and has a line of Frontera Foods Products which includes salsas, marinades, mixes, chips, and more.
The Julia Child Foundation for Gastronomy and the Culinary Arts supports research, culinary scholarships, internships, and food-literacy programs.
[H/T Chicago Tribune]
Related:
Is it Okay That Rick Bayless Makes the Best Mexican Food in the Country?
Have a tip we should know? tips@mediaite.com