WATCH: Romney Ad Blames Obama For Closure Of Bad Restaurant With Health Code Violations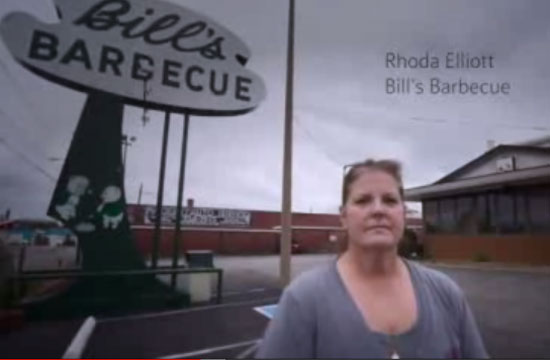 As a public service reminder, we at The Braiser hold no partisan views; and neither do the good people at Food Safety News. However, they report that a current Mitt Romney ad running in Virginia, which claims that a local barbecue chain was forced to shut down due to the downturn in economy (caused by Barack Obama, obvi), was completely inaccurate.
The ad, called "Bill's BBQ," features the now-shuttered company's CEO Rhoda Elliott blaming their bankruptcy on Obama's inability to jumpstart the economy. However, a quick review of their health records over the past five years reveals that they'd been cited multiple times in the past few years for serious health violations.
For instance, during a 2009 inspection, one of their 13 locations was penalized after an inspector found "minced pork noted not being adequately cooled to prevent the growth of harmful bacteria." (Oh god, gross.) A 2006 inspection included an ice machine, "used to prepare/store potentially hazardous food items were observed soiled with accumulations of food residues." (Ew.) And another store caught the employees handling food with their bare hands. (Get your hands away from our food! We don't know where they've been.)
In addition, it's definitely not the economy's fault: when the 82-year-old Bill's BBQ announced its closing, the Richmond Times-Dispatch reported that three other barbecue chains in the area were in the process of expanding in the area.
And if that wasn't enough, Yelp! reviews reveal that the food was "mediocre," with customers claiming that they'd run into "fake kind of onion rings," "Kraft singles smashed between two greasy buns," and this gem: "You know how sometimes there are little rocks in the burger meat? No? Well, there were little rocks in this meat."
Come on, Romney! Let the free market do its work. This company was going to fail anyways. We bet that if this were 2008, you would have written a long op-ed saying that Bill's BBQ should go bankrupt.
Have a tip we should know? tips@mediaite.com