Closed Italian Restaurant In Texas Blasts Customers as 'Redneck Sacks of Goat Sperm'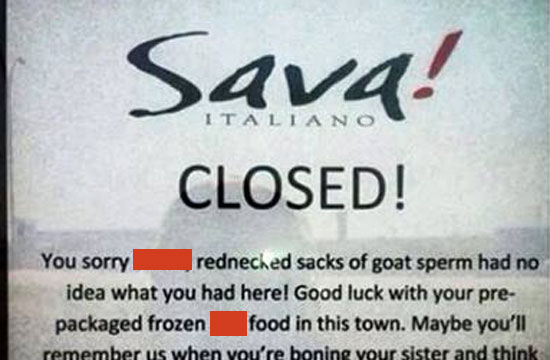 Right now, the bitterest of bitter restaurant closing announcements is exploding on the internet, and what appeared to be a simple "fuck you" to the residents of Amarillo, TX is slowly transforming into the next version of Amy's Baking Company. 
Sava! Italiano, a self-proclaimed "real" Italian restaurant in a city of 190,000 Texans, recently served its last meal on August 18th after being open for a year. Last night, a customer hoping to grab dinner discovered this sign taped to the inside of the closed and locked restaurant. He snapped a photo, and it was quickly circulated by local radio station 96.9 KISS FM, along with a warning for graphic content. Good decision, because here's what it says:
You sorry assed, redneck sacks of goat sperm had no idea what you had here! Good luck with your prepackaged frozen shit food in this town. Maybe you'll remember us when you're boning your sister and think she smells like pasta. We are off to make money in a town whose average IQ is above room temperature!! CIAO!
The Facebook page for the restaurant quickly denied that their owners were responsible for the sign, claiming, among other things, that someone taped the sign to their door and photographed it as a joke — though we have no idea how a random stranger can tape a sign inside a locked restaurant and photograph it from the outside. (These are obviously higher concepts that only someone with high IQ could possibly notice.)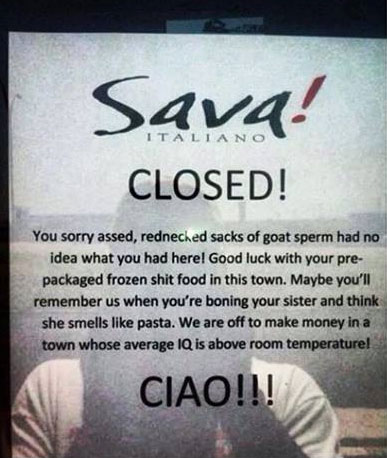 Amarillo residents aren't surprised, however: Sava's chef, Mark Coffman, told the Amarillo Globe-News last week that he was going to move the restaurant to the nearby city of Lubbock, because his customer base in Amarillo just didn't "get" what he was doing. "I think Lubbock will get what we do a little bit better," he said. "It's a bigger wine town. … We probably won't stay in Amarillo. I've enjoyed Amarillo; it's just a tough sell."
He added: "Everybody thinks they know what Italian food is and they still argue with me about it." And the best way to win that debate: calling his detractors "redneck sacks of goat sperm."
To be fair to the chef, who serves a legitimately Italian menu, this is the kind of review Sava gets on Yelp!:
You want real Italian? Mac & Cheese Sauce, Butter Noodles, Pizza Pockets? Well, you're not getting any of that here. Just a bunch of weird things I couldn't even pronounce. Disgusting!
The winner: no one, except for the Internet.
[h/t Reddit]
RELATED:
Former Waitress Spills On Working For The Kitchen Nightmares Crazies
Embezzler Stole Masa Sushi Money To Pay For Internet Porn Addiction, Gets Year In Prison
The Taste Contestant Calls Mentors 'A F*cking Suzy Homemaker, A Leprechaun, & A Guy Who Hasn't Cooked For F*cking 20 Years'
Have a tip we should know? tips@mediaite.com