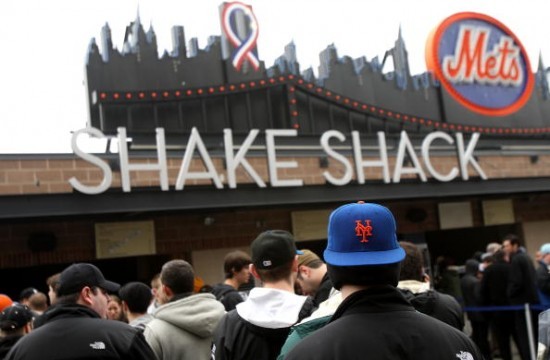 Oh my god, you guys. Did you know that the food at Shake Shack has calories? We're not lying! We swear, we read about it in The Wall Street Journal! We know, we're as shocked as you. Like, oh. My. God.
Thanks to Mayor Michael Bloomberg's push for all New York City fast-food chains to post caloric content on their menu boards, Danny Meyer and the Union Square Hospitality Group has been forced to tell the Shake Shack-loving public exactly how many calories are in their food. And goodness gracious, there are a lot of calories: a regular ShackBurger, with a quarter pound of beef, American cheese, lettuce, tomato, Shack Sauce, and a soft potato bun, has 490 calories. A "concrete" milkshake can top out at 740 calories. And the "healthy" 'Shroom Burger for vegetarians has 570 calories.
("But it's a vegetarian option!" you might cry in despair. We're pretty sure that deep-frying a portobello mushroom is a vegetarian-friendly preparation. It's just one that involves stuffing a mushroom with cheese, covering it in batter, and frying it to a crispy golden brown. Alice Waters and Guy Fieri would both approve.)
However, the company's pretty sure that the calorie count won't harm Shake Shack at all, for three reasons. First and foremost, Shake Shack burgers are comparatively healthier than those of their competitors. (For example, a Five Guys bacon cheeseburger has 920 calories. DAAAAAYUM!) Second, they will repeatedly hit you over the head with information about their premium ingredients: the pickles made from an artisan in Brooklyn, the hormone-free beef from Angus cows, the ice cream milked from a free-range unicorn's nipples, etc.
Third, and most importantly, is the Cookie Monster Lesson: "When you take your kids to Shake Shack, you're not feeling guilty," said Shake Shack CEO Randy Garutti. "You shouldn't do it every day. It should be part of a balanced lifestyle." Indeed, he hadn't seen any significant changes in consumer behavior ever since he posted the data on the menu boards in New York City, thanks to internal tracking and Danny Meyer's insistence on knowing what's happening all the time.
"It's pretty amazing," Garutti marveled. "It's exactly the same. I expected a little more of a blip and then a return to normal behavior."
[WSJ]
Have a tip we should know? tips@mediaite.com