Boston Restaurant Uses Submission to Sell Steak, Promptly Replaces Its S&M Advertising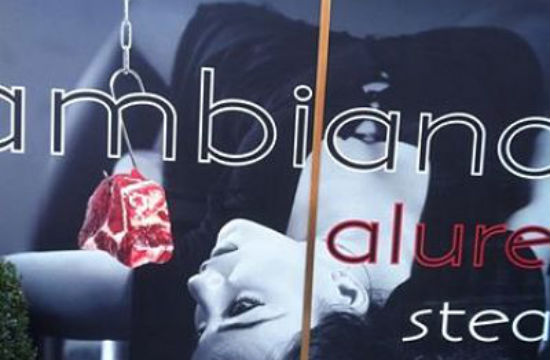 If nothing makes you hungry for a perfectly seared steak like a restrained woman lying spread eagle on her back with her bra showing, then congratulations! Nick Varano is opening the restaurant for you!
Strip (get it? Because it's a sexy steakhouse?) will open in Boston in the spring, but in the meantime, to whet your appetite, the restaurant is erecting suggestive ad panels over the windows of the space to initiate a little foreplay.
One such ad panel teases "ambiance," "alure," and "steak." Yes. "Alure." And it accomplishes that with the image of a woman lying on her back, legs daintily spread in a dress, while a hunk of raw meat is lowered to her lips on a chain. SUCH IMAGERY. MUCH POWERFUL.
Due to public outcry, the ad has since been replaced by this sexy stiletto'd foot stepping on a steak (because that's how we smash the patriarchy):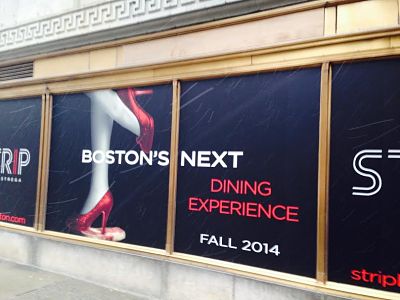 Says the restaurant group's PR team to Boston.com:
"The particular image you are referring to, was replaced with a different panel shortly after being put up over the weekend; it was one of several panels installed to cover the windows during the redesign of the space. The image did not meet the standards of the owners of the restaurant; in addition to that, the panel had a typo on it. The intent of the series of images was to be alluring, not offensive."
The intent was to be alluring. And yet all we got was alure.
[Boston.com h/t Mediaite]
Have a tip we should know? [email protected]