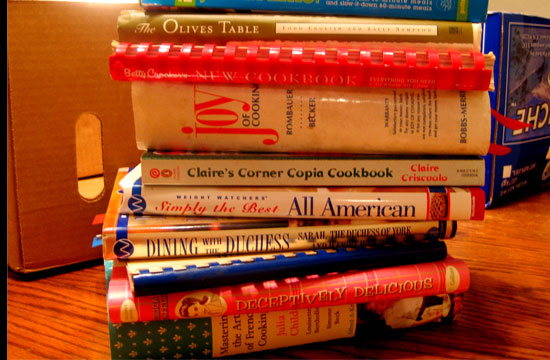 Maybe it's a UK thing (and maybe a US thing, eventually,) but when there are studies and surveys sent out about a trend, it's never a good sign. And the results of a recent survey from the Italian food company Scala aren't particularly assuring, either: 40% of cookbooks purchased in the UK will never be read. Ever. Especially if they're from a particularly difficult chef, like Heston Blumenthal, or Gordon Ramsay. In fact, their respective books, In Search of Perfection and 3-Star Chef, were rated the least likely to be read, whereas books from Jamie Oliver and Delia Smith were rated more readable. What does Jamie Oliver smell like now, Gordon? Does he smell like popular people?
Nevertheless, Jamie aside, cookbooks seem to now be a casualty in the long, slow death of print media and bound books: a whopping 53% of respondents said that they stopped using cookbooks altogether, instead turning to the internet to search for recipes based on what's in their fridge. This is the scariest survey, ever.
Other spooky facts, according to the Daily Mail:
67% find the recipes intimidating.
35% found the ingredients too expensive
20% thought that the recipes were too complicated
27% were turned off from reading cookbooks by obscure ingredients.
45% are frightened by the word "ballotine," while the rest of respondents admitted they peed their pants when they heard the words "umami," "chiffonade," and "cartouche."
When asked, 88% of those who could not identify a ballotine admitted that they thought it was a parliamentary maneuver, or a sex torture device used by Queen Elizabeth I.
One of those facts was a joke. How do people not know what a cartouche is?
[The Daily Mail via Eater]
Have a tip we should know? tips@mediaite.com