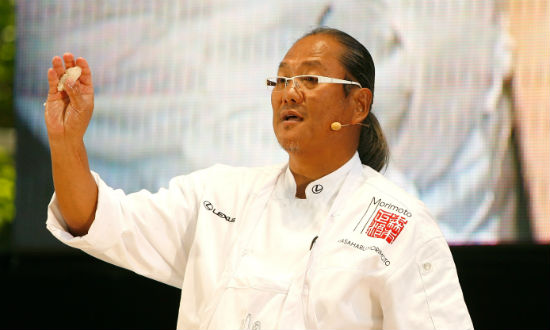 Iron Chef Masaharu Morimoto knows sushi. So when Food Republic posted a list of their "12 Sushi Commandments", Chef Morimoto responded to them on Twitter with his thoughts, and debunked several myths in the process.
For Morimoto, as with most chefs, the most important element is that of taste, and the balance of flavors. He said that "good sushi is a balance of wasabi, rice and fish" and therefore should be eaten in one bite, in order to have the best flavor experience. Also, feel free to eat your sushi with your fingers, as Morimoto says "it's better that way". Forgoing the chopsticks, according to Anthony Bourdain, whose comment Morimoto retweeted as an explanation, "allows [the] chef to pack less rice".
One major sushi myth is that takeout sushi should be avoided at all costs, as should sushi served on Sundays and Mondays. Morimoto, however, said that if "you go to a good sushi place", it doesn't matter what day of the week you eat it, or even if you take it home. Quality sushi is quality sushi. And yes, that does mean avoiding those "all-you-can-eat" sushi buffets.
Morimoto also dismissed the notion that sushi-enthusiasts should stay away from freshwater sushi. Despite reports that the freshwater kind is dangerous, Morimoto advocates trying it, as well as unagi, or, freshwater eel. (Anthony Bourdain is also a fan of freshwater sushi, and said that it is "terrible to miss out on".)
So the next time you drown your sushi in soy sauce, or break it into pieces with your chopsticks, know that Chef Morimoto is somewhere, judging you. On the bright side, he did approve of take out, so at least you won't have to commit your sushi sins in public.
[@Chef_Morimoto Twitter, Food Republic.]
Have a tip we should know? tips@mediaite.com